Big, Obnoxious Drinks
Yard Arms
Can really tall daiquiris save our local economy? No, but who cares?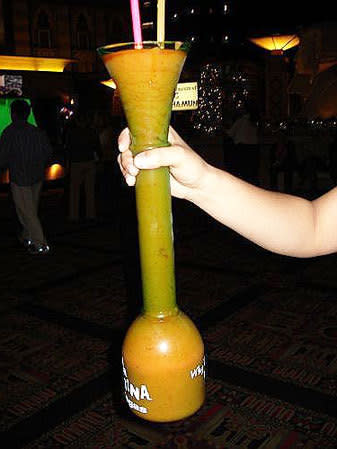 Hey, if anyone from the Portland Development Commission is on the line, I've got a great idea for revitalizing downtown Portland. Pay attention.
When in Vegas, I like to hail a cab over to Fremont Street, and hike around the Old Strip. In this gritty epicurean wonderland, visitors can savor fried Twinkies, all-you-can-eat shrimp cocktails, and complete surf-and-turf dinners for $9.95. But the ultimate in trashy tourist taste treats is drinks by the yard. Imagine 36-inch high daiquiris that come in a mind-melting assortment of flavors (I'm partial to licorice, and if they don't have that, peppermint), the perfect accessory for rambling around town and dropping in on assorted businesses. Whether you're window shopping, bar hopping, browsing for books, or queuing up for a Portland Timbers match, any activity can be made more joyous when you add rum, lime, and crushed ice in absurdly tall plastic flutes.
Yes, I said walking around. In Vegas, you can stroll about the avenue with drink in hand and get into cabs with them. Now that's a civilized country! Heck, you can even tote your container around and get them refilled at participating venues.
Slushy drinks by the yard, your time has come and downtown Portland awaits. Of course, casino-style gambling and extravagant Vegas reviews will inevitably follow. I see a day, not to distant from today, when I can get tanked on towering cocktails, lose $150 at blackjack, and heckle the Blue Man Group, right here in the city I love so well. And it will be paradise.
You got any better ideas? I'm all ears.