holmberg
Market Makers: Martha Holmberg
Oregonian food editor shows us how to mingle peaches with butter.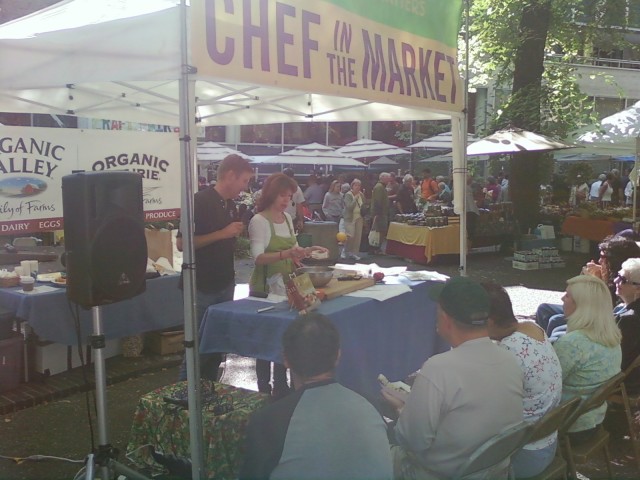 To Portland foodies, Martha Holmberg is the editor of the Oregonian's Food Day section and the glossy, food-centric bimonthly Mix Magazine. She was also the longtime publisher and editor of Fine Cooking Magazine and the author of several books, including the 2008 James Beard–nominated Puff. Lucky for visitors to the Portland Farmers Market at Portland State University on Saturday, Holmberg was on hand, and it happened to be peach season. And while Holmberg wowed market patrons with a delicious Gingery Peach Berry Gallette, she sent us home with a recipe for Pesche alla Piemontese (Stuffed Peaches from Piedmont). Gold.
I haven't yet tried this actual recipe, but I've had this very dessert prepared by a Piedmontese friend while working on a farm in Portugal several years ago. The recipe calls for Italian macaroons, which are made from almond paste. The interplay between the almond flavor, the ripe peaches, and the late August sun is unbelievable. In Portland, you can find Italian macaroons at Martinotti's Deli (SW 10th Avenue and Stark Street), or you can make your own. There are thousands of recipes on the Internet.
Enjoy
Stuffed Peaches from Piedmont
Pesche alla Piemontese
8 ripe peaches
1/3 cup granulated sugar
16 Italian macaroons, crushed
1 egg yolk
4 tbsp butter, cut in small pieces
Preheat oven to 350 degrees. Rinse, halve, and stone the peaches. (If stones are difficult to remove, slide a spoon underneath and pull them out.) Purée two of the peach halves in a food processor. Place the purée in a bowl and add the sugar, crushed macaroons, and egg yolk. Fill each remaining peach half with this mixture and place the peach halves, cut side up, in a buttered baking dish. Scatter the butter pieces over the peaches and bake for about 45 minutes. Serve warm or at room temperature.
—Adapted from Nick Malgieri