Drinking Locally
Bourbon Street
Kentucky whiskey? Yes, please!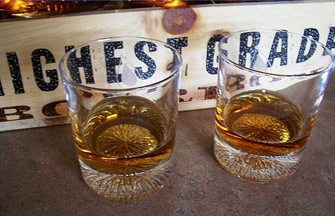 Just between you, me, and the potted plants, I'm burned out on vodka. It's trite, flavorless, and it's the key component in so many, frankly, juvenile drinks, that I've lost most of my respect for the stuff.
Tequila? Once in a while, but the very aroma takes me back to some very regrettable situations, like getting threatened and tossed out of the Blue Moon in Coos Bay for hurling on a pool table. I think my picture is still behind the bar with a note that says, "Shoot on sight."
In an effort to cultivate a more civilized air (always a good idea when the big 5-0 is on the horizon), I've been dipping my toe in the whiskey river. I've acquired a few sumptuous single-malt Scotch standbys, but my knowledge of bourbon, the American whiskey made primarily from corn, is sketchy at best, other than the ubiquitous Maker's and soda.
So I imagine I'll be spending some quality time at Pope House Bourbon Lounge, located at 2075 NW Glisan St, the former home of the Brazen Bean, the gone-but-not-forgotten martini emporium.
I chatted with Pope House co-owner Kitling Lum, herself a Kentucky native, as she painted a fairly compelling portrait of a brown-spirit establishment with 39 different varieties of bourbon and 25 other whiskeys of the Canadian, Irish, Scotch, and Tennessee varieties. "But it's a full bar," she assures me. "People who aren't fans of whiskey will have plenty of choices."
The food maintains the Southern hospitality vibe with an array of tea sandwiches, bourbon-barbecued pulled pork, and the Louisville Hot Brown, a grilled sandwich with thin-sliced turkey, bacon, cheddar, and house-made parmesan aioli.
I'm just hoping the magazine will reimburse me for a shot of exquisite 28-year-old Hirsch bourbon, which goes for the princely sum of $70. "It's a supply and demand thing," Lum tells me. "Once that bottle's gone, we don't think we can find another one."
Which means I'd better hurry. Who's up for a taste of Kentucky's finest in the next week or so? Or perhaps a pimento-cheese tea sandwich?