Drink or Treat
Halloween Spirits
Anyone have scary cocktail ideas?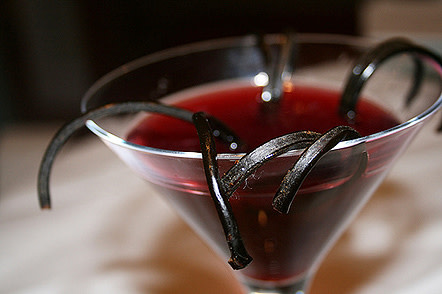 I'm going to a Halloween cocktail party this Saturday and I've been racking my cranium for the perfect drink to bring. Needless to say, it's got to be scary. I seem to remember one year we did a "Witch's Brew" sort of a thing, that consisted of two bottles of cheap champagne covered with a layer of sherbet, to give it a scummy, swampy look, but I think if we put our heads together, we can do better.
What I'm trying to say is, SEND ME YOUR HALLOWEEN COCKTAIL RECIPES! Right now.
I'll start.
The Black Widow
Cream de Cassis
Vodka
triple sec
fresh lemon juice
Pomegranate juice
licorice strings
Two parts cassis, three parts vodka, one part triple sec, one part lemon juice, one part pomegranate. "Hey, what's a part?" I can hear you exclaim. In an average cocktail shaker, figure you've got about eight parts. Come on, it's not an exact science. Nothing's going to explode. So pour your parts into a shaker with ice, shake for ten seconds, and strain into a martini glass. Garnish with licorice strings to simulate spider legs. Ooooh! Scary! When it comes to Halloween drinks, the fright element usually lies in a properly gruesome garnish. Roughly peeled radishes stuffed with olives make good bloodshot eyeballs, for example.
OK, drinking buddies, let's hear your ideas.