Drink Locally
Happy Beerthday!
Free beer at East Burn once a year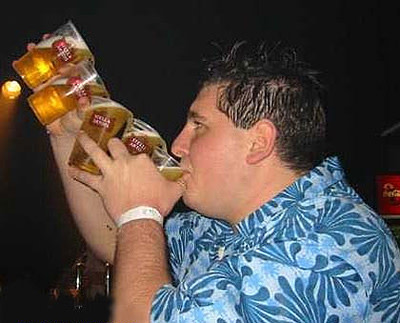 Free beer on your birthday? Yeah, right. And all the hot girls in your office have to accept a date request from you too.
A reader named Ross just sent me a query (it's like a letter but shorter) wanting to know the best place in Portland for free drinks on your birthday. My reply was short and to the point: "Your house." But, good sport that I am, I vowed to look into the matter.
Imagine my shock and surprise. Turns out you and nine (whoa!) friends can indeed drink for free on your birthday at East Burn, 1800 E. Burnside. Wait! Wait! Before you make babysitter plans, be advised that certain restrictions apply.
You must come in and register at least a week in advance.
The free drinking is for one hour only.
Tap and bottled beer or house wine only.
The drinking hour must be after 9 PM.
East Burn will only accommodate two parties per night. First registered, first served.
I'm still trying to contain my joy and rage. After all, I've had 15 birthdays in Portland, but no free hour of drinking. This shall not stand. Does anybody else know of any sweet birthday deals around town? I really want to know.