hotel bars
Where to Go to Get Away
Five bars and restaurants for nights less-social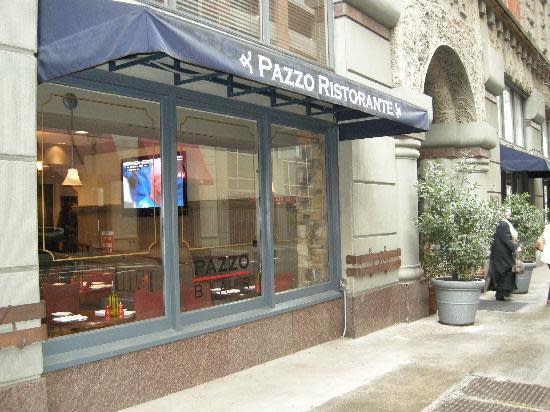 I love to see familiar faces, but I also have my hideouts. Here are five places I love when I want to get away.
Pazzo
627 SW Washington St.
For urban getaways in your own city, you can't do any better than a hotel bar. And for a hotel bar, you'll do no better than Pazzo at the Hotel Vintage Plaza. With an affordable bar menu that includes ten dollar pizzas topped with house-made mozzarella, a giant charcuterie platter for two dollars more, and classic Martinis, Negronis, and an Old Fashioned made right, Pazzo's bar never disappoints. Standouts: Cheap and wonderful bar menu.
Serratto
2112 NW Kearney St.
With Neuske's bacon, fried onions, bleu cheese, and local beef, Serratto's burger has long been my favorite in the city. Better yet, it's only six bucks with fries during the restaurant's superb daily happy hour. As other restaurants and bars come and go on NW 21st, Serratto and its relative and predecessor Delphina's, have anchored the corner of NW 21st Avenue and Kearney for nearly 30 years. It's staff is friendly, it's drinks are good, and I always find something new and interesting on the excellent wine list. Standouts: Happy hour, wines by the glass.
The Driftwood Room
729 SW 15th Ave.
It's not possible to visit mid-century Hollywood, but this quiet bar is resoundingly the next best thing. There simply doesn't exist a darker and more charming place for a late-night drink than the 1940's-inspired Driftwood Room in the Hotel Deluxe, and I dare you to prove me wrong. Standouts: Classic cocktails.
Cassidy's
1331 SW Washington St.
This restaurant and bar anchors the backside of the Crystal Ballroom block, but it's bar menu is much more interesting than what you'd find at nearby Ringler's. My inclusion of Cassidy's is admittedly antithetical to my original mission of identifying hideaways: Cassidy's is the ultimate Westside service industry hangout. That said, the booths are tall, the room is dark, and the drinks are stiff. Standouts: Great selection of wines by the glass, calamari.
The Commodore
1601 SW Morrison
This is the perfect place to start a night or end one. Regardless of when you go, the Commodore is always the dive of dives. Don't expect charm, but count on drinks stiff and cheap, pool tables, and perhaps the best jukeboxes in all of Portland, that is, if you love Tom Waits, Roy Orbison, and Lou Reed as much as I do. Standouts: Said jukebox.
What are your favorite hideaways?