Random Notes
Everyone Loves Leftovers
It's a slow news day. Let's catch up!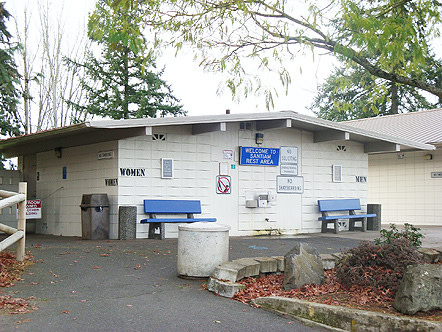 Just a few short items today, drinking buddies.
ITEM: I was going to blog about my fab weekend road trip to Eugene to see the Pixies, but the only photo that came out was this one. Just to clarify, this is a roadside rest stop that we visited. It was pretty clean. By the way, the Pixies were stupefyingly good, and the concert kicked butt. A shout out to the drunk girls who got mad at us when we asked them to sit down so that we could see the show: You are awful people. Truly a waste of space.
ITEM: Discovered a great restaurant and bar in Eugene called The Vintage. Ask for the Cucumber Gin Fizz.
ITEM: I highly recommend the blog Toxic Cocktail, written by a hard-drinking local gal who has two primary concerns in life. Preserving the sanctity of our environment—and getting drunk. Right on!
ITEM: If you're a dipsomaniac who loves to tell stories about your inebriated exploits, have we got an iPhone app for you. It's called Drinking: the iPhone App for Drunks, and it's a site where sauce hounds can leave timely tales about stuff they did whilst under the influence of the demon rum (or whatever). I don't have an iPhone, so if someone who's more technologically advanced than I am wants to take this puppy for a test drive, I'd be interested in hearing all about it.
Got any Portland bar/beer/booze news? Give me a holler.