Football Fun
Civil War Watering Holes
Sweet deals for the big game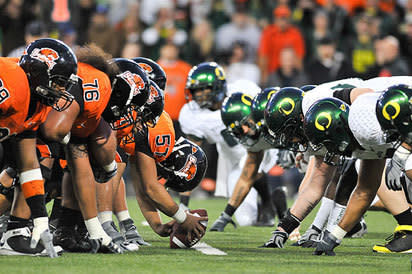 Ah, what invigorates the soul more than a crucial college football donnybrook taking place on a crisp fall evening? Well, lots of things, but the Civil War match-up between Oregon and Oregon State is still a pretty big deal. As a reasonably proud University of Oregon grad (Please, please, please, stop asking me for money!), I'm hoping for three things: a Duck victory; a brilliantly executed game in which both sides acquit themselves with pride and valor; and an amiable drinking establishment to watch the game. Of course, if the bar is offering some awesome Civil War game deals, so much the better.
My buddy Kyle Ritter over at Barfly magazine has done some admirable legwork on the subject, so naturally I studied his findings in great detail before selecting a trio of likely watering holes.
1. Buffalo Gap (6835 SW Macadam Ave): The home of the Badlands Chili Burger (a formidable meal fit for a regiment) will not only have the game on with drink specials aplenty, but staffers will be distributing free raffle tickets. In addition to an array of schwag, a 42" plasma-screen TV will be raffled off in the fourth quarter. Anything's better than my crummy 13" black and white with the bent coat hanger antenna.
2. 50 Plates (333 NW 13th Ave): Yes, it's a posh Pearl District pit stop, but when you have some of the best happy hour chow in town you'll have no trouble drawing a crowd. Happy hour prices will be available during the game, and that means chicken-and-waffle sliders for $2.50. That's chicken-and-waffle sliders, a.k.a., nature's perfect food. There's also $6 fancy cocktails for the pretentious pigskin partisan.
3. Gil's Speakeasy (609 1/2 SE Taylor St): True, I've spent time in recreational vehicles that are more spacious than this chummy little dive, but bartender Brett informs me that for the Civil War fracas they'll be putting out a complimentary buffet of Swedish meatballs, subs, mashed 'taters, and salad.
If anyone needs me, I'll be at the Speakeasy. Bar Pilot out.