Holiday Ale Festival
Bigger, Better, Beer
Seriously bold brews pour at Ale Fest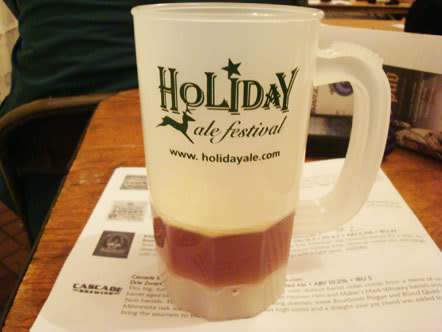 Thanks much to festival director Preston Weesner and super-sudsy publicist Chris Crabb for inviting me to a swell beer-tasting event at the Holiday Ale Festival last Friday. Weesner poured us some of his favorite winter beers and I have to give credit where credit is due. The man has exemplary taste. Thought I'd share a few notes scrawled out on my program to give you an idea of the outrageous ales on tap at the fest.
1. Barrel-Aged Old Baba Yaga is an incredibly flavorful and complex imperial stout from Bear Republic Brewing in Cloverdale, California. This may well be the best stout I've ever stumbled across, and certainly the most delicately balanced. The first sip detonates on the palate with traces of caramel, cherries, coffee, and smoky chocolate. It's like the Black Forrest cake of stouts. Must have more.
2. Jim 2009, a blended barrel-aged old ale, is the result of a tag-team effort between Weesner and our own Hair of the Dog brew guru Alan Sprints. In memory of their mutual friend Jim Kennedy, the two mixed and matched several beers including an English brown ale, and a German bock, with some of HotD's greatest hits including Doggie Claws, Fred from the Wood, and Blue Dot IPA. Considering the 10 percent alcohol content, it was surprisingly mellow and creamy.
3. The Tart Lychee from New Belgium Brewing in Fort Collins, Colorado, is a tangy sour beer, a type of ale that Weesner believes is going to have a rapidly expanding fanbase, as it provides a welcome contrast to the uber-hops movement. Fruity, refreshing, and tart, with a crackling dry finish, this is sheer excitement in a glass. Is that hyperbole? Yeah, probably. But if this is a taste of brews to come, then bring on the sour!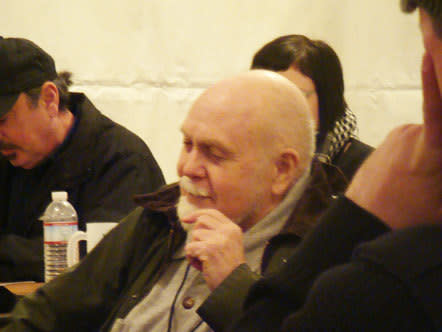 We were also honored with an appearance from Portland's resident rock star of the beer set, the ageless wonder Fred Eckhardt, probably the most illustrious local we have in terms of jump-starting our craft beer juggernaut. Among countless other honors, he's even got a beer named after him, Hair of the Dog's Fred, and a more luxurious and puissant strong ale you'll be hard-pressed to find.
There were other noble ales that found a temporary home in my mug and there wasn't a dud in the bunch. Gads, I love beer! Thanks to all and see you next year!