The Sporting Life
Vancouver = Vodka
Catch Olympic fever—and a buzz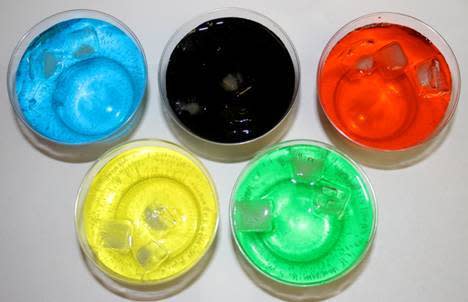 Liquor company executives aren't stupid. Why shouldn't you have Olympic-themed cocktails the next time your pals come over to watch the bobsled finals? No reason at all.
The marketing wizards at Three Olives, an English company that boasts more than a dozen flavors of vodka, sent me the following recipes to not only inspire sports fans to greater heights of fanaticism but also to toast all nations in the spirit(s) of international competition.
See, the five rings represent the five original participating continents in the 1920 Antwerp Olympics. Cripes, you'd think Antarctica could field a kick-ass Winter Olympic squad, but it appears the nation is comprised entirely of couch potatoes. If you don't appreciate my shilling for Three Olives, feel free to use the flavored vodka of your choice. But remember, they did go to the trouble of inventing these drinks. Sure beats watching the Biathlon sober.
Blue Skis
3 oz. Three-O Grape Vodka
½ oz. blue caracao
1 oz. lemonade
Mix ingredients in a glass with ice
Mountain Mist
3 oz. Three-O Citrus Vodka
½ oz grapefruit juice
½ oz pineapple juice
Splash of triple sec
Mix ingredients in a glass with ice
Black Ice
1 ¼ oz. Three-O Triple Espresso Vodka
¾ oz. premium dark chocolate liqueur
½ oz. orange liqueur
Mix ingredients in a glass with ice
Curling on the Rocks
2 oz. Three-O Raspberry Vodka
½ oz. melon liqueur
½ oz. triple sec
Splash of cranberry juice
Splash of orange juice
Mix ingredients in a glass with ice
Olympic Flame
3 oz. Three-O Cherry Vodka
½ oz. triple sec
1 oz. cranberry juice
Splash of fresh lime juice
Mix ingredients in a glass with ice