Rock the Clubs
Wonderful Words
Your new favorite band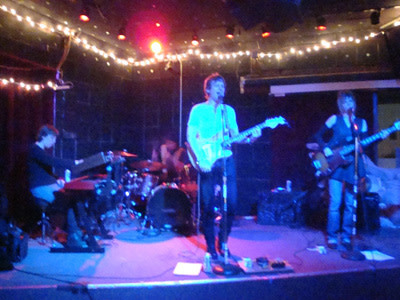 Just a hastily scribbled note about last night's a-rock-a-lyptic show at Plan B. I was floored by From Words to Blows, the new band fronted by longtime Portland sideman—and jolly good fellow—Jesse Emerson (Amelia, Flatirons), augmented by the beguiling Susannah Weaver (she who is known as Little Sue) on bass and support vocals, and by rad keyboardist Jenny Conlee who earns her primary paycheck with those wacky Decemberists.
I blogged about them last June at their first show (sans Conlee) and was duly impressed. But last night's performance was jaw-dropping. I honestly can't remember being that absorbed by a band (local or touring) in a long, long time. What I appreciate the most about From Words to Blows is its inventiveness; the ability to pull surprises out of a well-worn rock 'n' roll hat. Emerson has kind of a downbeat, blue-collar glam persona, like David Bowie slumming with a bar band. Weaver's harmony vocals are sweetly doomed country, while Conlee's organ fills add a '70s hot-buttered soul groove that covers everything like syrup on a short stack. And amazingly enough, all these elements snap together with Lego efficiency into something truly heroic. I was hanging on every note.
The show was free and there were only about 25 people present at Plan B, the amiable punk rock bar located smack-dab in the middle of the inner Southeast industrial hub. A damn shame. I hope you all enjoyed a killer episode of Project Runway, because this was a night I won't soon forget.