Beer Bulletin
Glass Dismissed
Ale appreciation classes on tap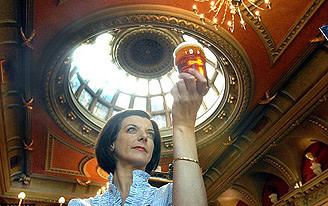 Have you browsed the beer aisle at Fred Meyer lately? Sheesh! It's a veritable Library of Congress of confounding labels, from teeny-weeny domestic microbreweries to exotic imports in towering bottles with $10 price tags. If you're feeling a bit flustered by all the unfamiliar faces, relax and rejoice 'cause help is on the way.
A recently organized organization called Oregon Beer Odyssey is hosting a series of beer appreciation classes at various drinking venues across the city. Co-founder Ben Edmunds, a brewer who's worked in Belgium and Germany, explains that attendees will acquire knowledge about beer styles as well as specific flavor descriptions which should magically transform them from six-pack slobs into erudite icons of sudsy sophistication. The classes start March 20 and most are individual sessions with titles such as "Tasting and Talking About Beer" and "Great Beers of the Northwest." Damn, where were these guys when I was in college? I could have gotten a master's degree in two years. "Yeah, we aren't offering degrees in beer styles," Edmunds laughs. "Although they do in Germany."
They're way ahead of us over there.
Oregon Beer Odyssey's headquarters is in the same building as Beermongers bottle shop at 11th Avenue and SE Division St. Edmunds is visualizing the area as a hoppy hotspot, with the debut of a beer bar called Apex in another month or two. "They're going to have a pretty aggressive opening," Edmunds says. "They'll open with 50 taps."
So this stretch of inner Southeast will soon sport a bottle shop, a beer-centric bar, and a place to get some lager learning. I plan on enrolling and maintaining a sparkling GPA (Great Passion for Ale). Education never tasted so good.