Beer Bulletin
Brew Love
Apex pours its heart out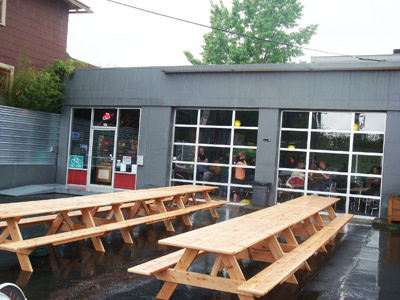 I didn't bring a coat with a hood to work yesterday, so by the time I made it over to Apex, the new beer bar on SE Division, I resembled a waterlogged wombat. However the sight of 30 lovely taps pouring everything from Hopworks Imperial Red (9.3 percent ABV) to Thomas Kemper root beer (0 percent ABV) proved most revivifying. German and Belgian styles also are well represented here.
Located in the former home of Lovecraft Biofuels, Apex has abundant outdoor seating that sadly was going unused, just because the rain was coming down in bathtubs. Inside, the renovated industrial space is freshly painted and exploding with customer chatter. The room is dominated by a lengthy bar and there's a trio of pinball machines in the foyer. Like Hopworks, Apex has identified itself as a bike-friendly establishment, with racks for helmets and a line of wall hooks for backpacks.
There's no kitchen, but Apex abuts Los Gorditos a newish Mexican restaurant with scads of vegetarian options, and hungry visitors are encouraged to order chow there and bring it back. Since Apex doesn't serve hard alcohol, they aren't required by the OLCC to offer the ubiquitous salads and paninis found at every other start-up pub.
I was seated at the bar trying to ignore the puddles that were forming all around me when I was struck by Cupid's arrow. The beer I was sipping was insanely tasty. I've had good fortune with beers from Portland's Upright Brewing, and my luck was holding. Upright's No. 7, described as a "strong farmhouse ale" is a burly and complex Belgian-style brew with a high, dry, sour taste cushioned with fruit and spice notes. "Holy crap, this is delicious," I said to drinking buddy Lucy. Unconvinced she yanked the pint glass out of my mitt and took a healthy pull.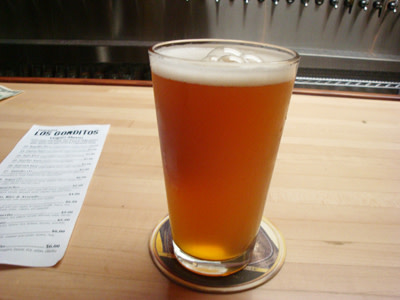 "Wow, that's really good," she agreed. We made plans to break into the Upright Brewery that very night and purloin the entire inventory of No. 7, but neither of us had access to a really big truck. Curses! Foiled again!
On that note, now is as good a time as any to let the brewing community know that myself and editor Brian Barker are working on a big beer feature for the July issue of Portland Monthly. We're currently quaffing quality beers from both Portland and from around the state to determine a greatest hits pick list. Got some suggestions? Let us know. The only caveat is that the beer should be available to the public year-round.
If any brewers want to drop off samples at the office, please bring us your kegs, growlers, bottles, buckets, and to-go cups. This is called research and it's something we journalists take great pride in. And if you could bring along a big sloppy pizza or two, we'd really appreciate it. Kisses!