Happy Hour
Happy Hour of the Month
Last Wednesday at Ground Kontrol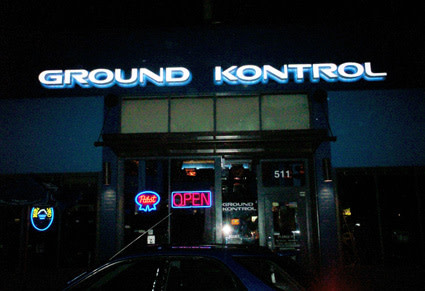 It's Ground Kontrol's turn to put up its quarter Happy Hour of the Week. Located at NW Fifth and Couch, PDX's famed retro arcade holds one of the best-kept secrets in Portland, namely a $5 cover for all the games you want to play—but only once a month. There's Super Nintendo, Sega Genesis, and countless other beloved time-wasters of yore.
During the day GK operates as an arcade—21 and over entry isn't required until 5 PM. On average nights, using your hard-earned laundry money for frustrating games (the machines don't cheat, they simply lack human emotions) has potential drawbacks—who wants to decide the fate of their last quarter on either Sunset Riders or Spider-Man pinball? Fast forward to free play night.
OK so it isn't technically a happy hour, but pay attention: the "barcade" management breaks down their coin-operated terminals on the last Wednesday of the month (5 PM to 2 AM) and forces them to play nice by allowing Portlanders in the know to get all the free games they want. All this for a slappingly-stupid cover of $5. And all this for the 90-plus classic games that live in this labyrinth.
The atmosphere of free play night exudes the feel of a personified MF Doom album: pounding techno reverberates wall to wall, the high-pitched wails of virtual lost lives adding to the din, and geeky commentary on topics such as "turtling" and "super-combo parrying." Occasionally frat-boy cheers echo from the corner, where the NFL Blitz machine serves as a halfway house for 'roided-out chug-a-luggers doing their best Uncle Rico impressions, reliving the glory days—albeit on a virtual console.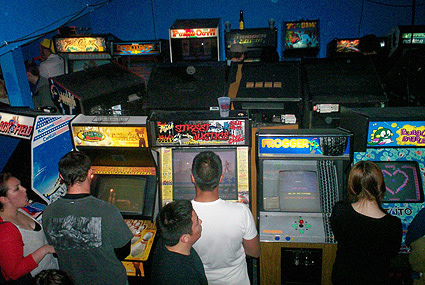 Since GK is also a bar in disguise, it isn't all just fun and (video) games. The drink menu contains 13 brews including Bridgeport IPA and Pacifico, but really, don't be stupid—nobody wants to be that person, the one drinking craft beers or imports on free play night. The swill-of-the-realm is PBR and Miller High Life pounders for $2 each. Yes, there are also w(h)ine coolers and Sutter Home vino selections, but once again, it's all about the inexpensive domestics. Wine at an arcade? Impossible.
The crowd can be unofficially categorized as follows: There are Wii-owning charlatans who think "nerdy" is code for cool and attend for the scene. They eventually end up watching and just hanging out to be there. There are casual gamers, who own an XBOX 36O or PS3 and play the newest releases pending free time.
Then of course there are the real gamers who live for $5 night to face genuine competition, specifically in the fighting games. Avoid these types at all costs unless you secretly crave a savage beating and words of creative smack talk about your lack of skills.
All types aside, the staff doesn't hate—anyone 21 and over is welcome. Recommended for nostalgic nine-to-fivers looking for a vintage vacation, unemployed lovers on a cheap date, geek watchers, or anyone wishing to spend hump day pushing buttons and staring at a screen. Once again, it's not technically a happy hour—but there are plenty of joysticks to go around.