Happy Hour
Happy Hour of the Week
Bountiful beer at Widmer Gasthaus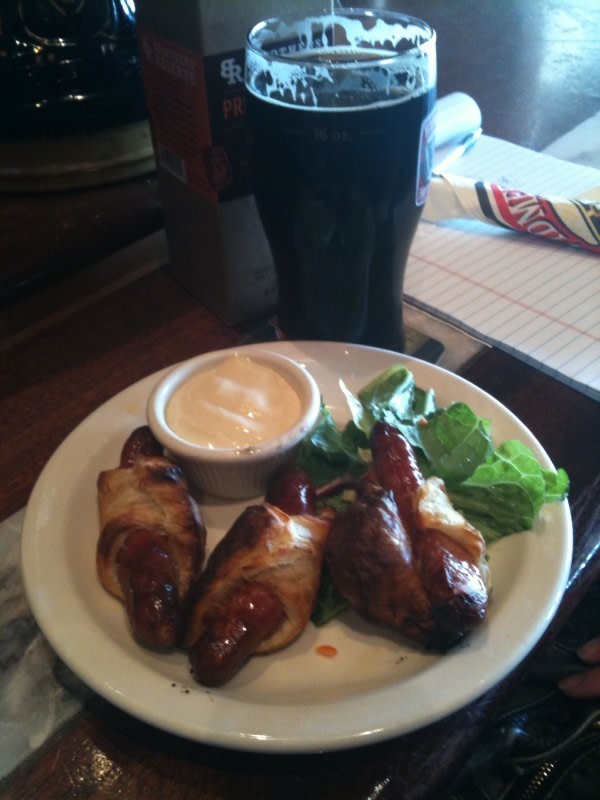 Welcome to Widmer week. While tasting the new Widmer Braggot, at the brewery, I spied the Widmer Gasthaus across the street and figured it would be wise to stop in for Happy Hour. I asked one of the brewers, Doug Rehberg, what he recommended over there. "I go for the Hop Jack or Alt—usually anything with a lower alcohol content." I guess that's what happens when you're up to your elbows in beer all day. Rehberg added that the pigs in a blanket were a must-try as well.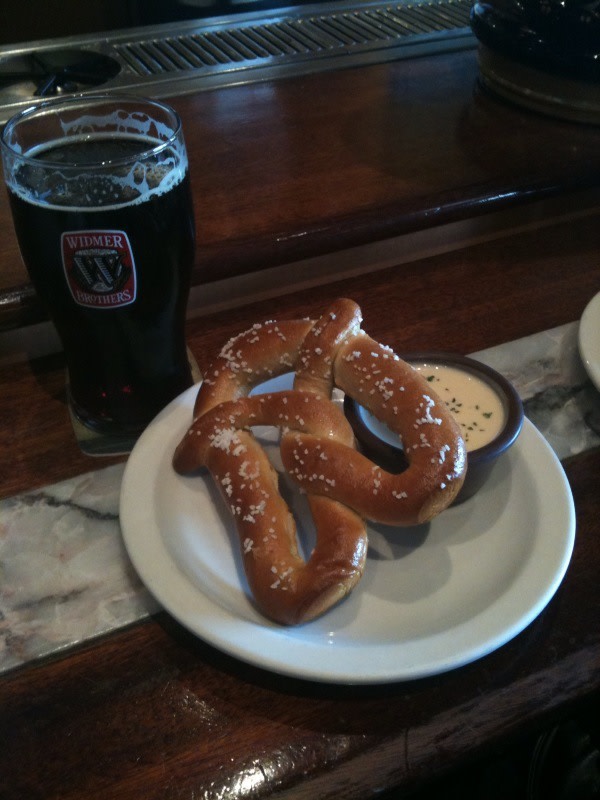 Good call on the piggies, Doug. The pigs in a blanket ($4.95) were awesome, mostly because they're made with mini bacon sausages instead of the customary li'l smokies. These are lovingly swaddled in a flakey, buttery, um, blanket. And they pair wonderfully with a woody Widmer beer. However, I found the real standout snack to be the pretzel with fondue for only $2.50. (A plain pretzel is a dollar less but be sure to shell out that extra buck for the sensational Swiss fondue—I'm having a hunger flashback just thinking about it.) The fondue sausage sampler is another worthy option ($6.95) and the Bourbon Bock Cheeseburger ($5) looks like a real mouthful.
Pints during happy hour are $3-4, which is a major steal considering all the unique local beers you can dip your beak into. Of course, you can quaff a Widmer staple such as my personal favorite, the W '10 Pitch Black IPA. At 6.5 percent alcohol content, this burnt hoppy wonder is a yearlong special release that demands your attention. I first tried it at this year's Zwickelmania gathering and haven't looked back since.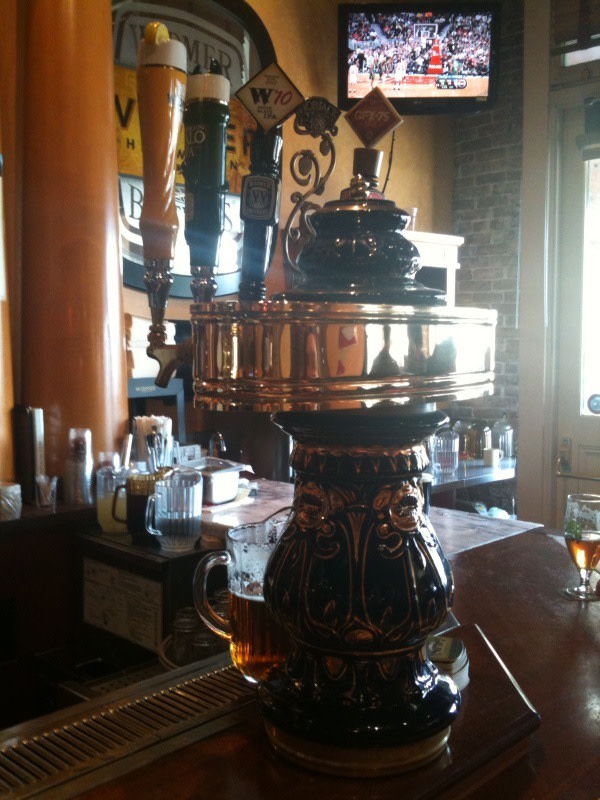 However, if you're looking for a beer that's even more memorable, try the current Collaborator brew. Right now it's a chocolaty malt number called Ale-X. The Collaborator Project is just one way that Rob and Kurt Widmer pay-it-forward from their own humble roots. Homebrewing club the Oregon Brew Crew (of which the brothers are long-standing members) has an annual brewing competition in which the best beer—regardless of style—gets brewed by Widmer and served at the Gasthaus.
The bar is housed in an old hotel, and they've kept this aesthetic but added a few modern, sporty touches. And since the crowd at Happy Hour include clusters of folks from 21-80+, it's an ideal place to bring out-of-town guests to show off what Portland is really all about—namely beer.
The only less-than-happy aspect of the Widmer Gasthaus Happy Hour is the time: Monday-Friday from 2-5 PM. Yikes! But hey, isn't tasty and affordable local beer a reason enough to sneak out of work early? I'm sure your boss won't mind—just don't tell him it was my idea.