Happy Hour
Happy Hour: Jade Lounge
Made in the shade at Jade Lounge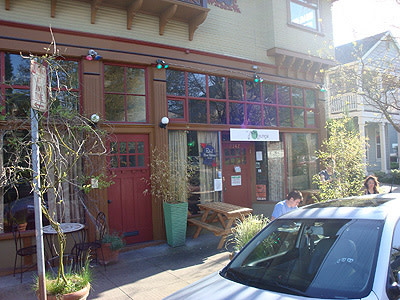 I'm not sure if it's the shiny green walls, the preponderance of low-hanging light fixtures or the waitress's sultry voice, but the Jade Lounge exudes tranquility. If Nurse Ratched had only thought to have medication time here, McMurphy might have eventually chilled out and become as docile as "Broom" Bromden. Of course, that wouldn't have made for a very liberating literary experience, so let's scratch that idea.
The Jade Lounge is the verdant little shoebox adjacent to Il Piatto on SE Ankeny. Why an Italian restaurant would want an Asian bar attached to it is a mystery best left for Phillip Marlowe, but the unlikely juxtaposition seems to work just fine. No cultural confusion; no one freaking out and demanding baked ziti or garlic bread. At least not when I was there.
Happy Hour at the Jade is 5-7 on weekdays with a buck off well drinks, beer, and wine, but your best bet is Tuesdays and Thursdays when the delectable appetizers go for $3 all night long. Of course, there is nothing wrong with tucking into the usual pub-grub suspects found elsewhere: fries and onion rings still dripping with searing, heart-stopping vitality; nachos made up of leftover tortilla chips and three-bean dip grudgingly assembled by the dishwasher, bartender, or escaped lunatic who happened to be hiding in the kitchen. What's not to love? My beef is boredom—not nearly enough establishments stray far from the established chow template.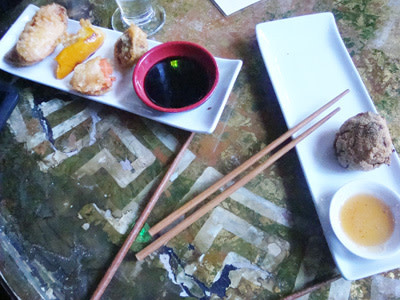 It's the variety and quality of Jade Lounge's $3 plates that has me returning like a boomerang with a bad case of the munchies. The tempura veggies are lightly battered in rice flour and fryer-timed to a delicate savory crunch. The cloying density of the yam fries is both muted and accentuated with the addition of a soy-wasabi catsup, while the rolls (seafood, salad, and pork) are made with snappy-fresh ingredients and obvious care.
My dessert pick is the madly addictive banana fritters. The corn-meal shell, liberally sprinkled with cinnamon, serves as a tasty prelude for the sweet gooey filling that makes me think of some long-lost auntie's homemade banana pudding hastily shoveled into my crying pie-hole. Ah, memories.
Among the half-dozen taps are worthy entries from Deschutes and Ninkasi, as well as that can't-miss exchange student Trumer Pils. Since it was a warm day I asked for something tall and invigorating from the specialty cocktail menu, and the waitress immediately steered me to the Stephalicious ($7), a palate-reviving combo of vodka, fresh-squeezed orange and grapefruit juices, and a float of chambord, a blackberry liqueur. If I could live in a universe where my desires became reality, there would be one of these waiting for me as I come in the door from work every night. Unfortunately, times are tight and we had to layoff our manservant.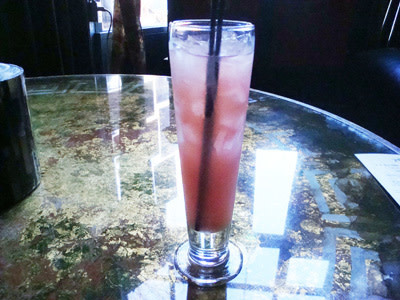 Still, this heartbreaking domestic situation leaves me with a compelling reason for falling by the Jade Lounge—especially on Tuesday and Thursday. The rest of the week I must content myself with tequila and Tang. It's my own invention and I call it the Tanquilalizer. It's not tranquility, but it will have to do.