Happy Hour
Red Star Tavern
Red Star means "abundance"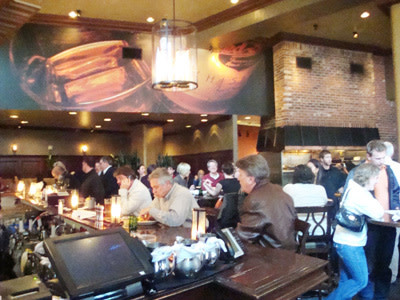 This should come as a surprise to no one, but I'm a dive bar guy. I like dark rooms, shady characters, and cheap drinks—places where my lack of manners and fashion sense pass, for the most part, unnoticed. In other words, I drink econo.
However, this does not apply to Happy Hour. When I'm unchained from my galley oar at the end of a monstrous day, driven to the brink of madness by multitasking and Kafkaesque office politics, I need comfort. Abundance. Service sans sneer. And most of all, I need the time to enjoy these amenities. Though it's a trifle on the posh side (it's attached to Hotel Monaco) for my moth-eaten wardrobe and mangy friends, the Red Star Tavern and Roast House provides these necessities at a fair price for four luxurious hours a night. That's right, Happy Hour at Red Star runs from 4-8 every weekday. This in itself is no big whoop, but the superior spread of chow and bevvies makes it a crucial stop on any after-work itinerary.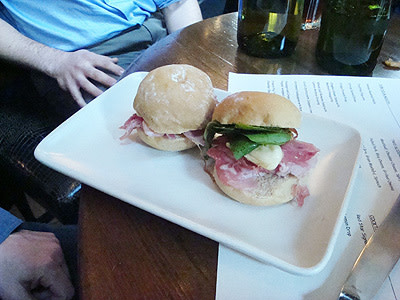 For a measly $3 you can tuck into four different varieties of sliders (two on a plate). The ham and brie with green mustard on a fresh-baked roll is delicate and delicious, and the meatloaf with spicy ketchup can put a decent dent in the pre-dinner munchies. There are also four kinds of tacos (two on a plate), a pair of decent-sized salads, and nearly a dozen hors d'oeuvre options.
The rich and robust popcorn drizzled in truffle oil justifies your daily fat intake in a way that humble butter never could. The french fry nachos is comprised of french fries (duh!) covered in cheddar cheese, onions, and slow-cooked roast beef. This is a dish that should be scarfed in great haste for two reasons: your tablemates' roaming hands will be all over them, and after 10 minutes or so, the beef gravy reduces the potatoes to a sad, soggy pile. Don't be shy with this one!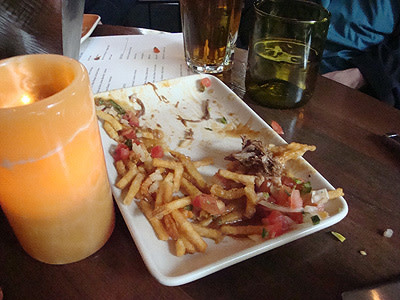 To wash down this array of groceries, Red Star offers $3 wells, $3 wine by the glass, and a formidable selection of craft pints for (you guessed it) $3. Among the taps were regional favorites like Ten Barrel Black Ale, Hopworks Lager, and Ninkasi's Total Domination IPA. And for the well-heeled sophisticate there are cocktail classics (martini, manhattan, cosmo, margarita, lemon drop) for $5.
Bonus: The Red Star's high ceilings reduce crowd clatter considerably. I could actually hear and comprehend everyone at my table without reading lips.
My only beef was with Red Star's lack of group accommodations. The regulars start showing up at 4:01, and by 5 there's no place for your posse. Eight of us did our best to cram our behinds around a tall table for four, but it still required some of us to take turns standing from time to time. It was kind of like that Hitchcock film Lifeboat, but thankfully the stakes were considerably smaller.