Nano-Roasters
Water Avenue Coffee Sets Up Shop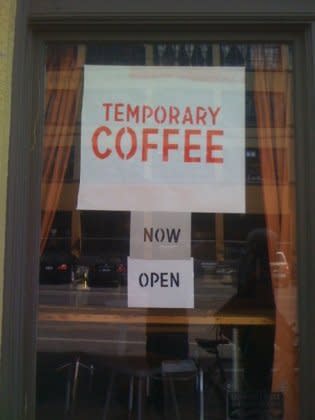 Portland has recently become Mecca for small coffee roasting operators or "nano-roasters" as my friend/food writer Hannah Wallace recently dubbed them. Joining a newish PDX peer group that includes former professional snowboarder Wille Yli-Luoma's Heart Roasters and Coffeehouse's NW kingpin Adam McGovern's side project Sterling Coffee Roasters, coffee consultant and director of the influential Portland-based American Barista and Coffee School Matt Milletto and former Stumptown roasting veteran Brandon Smyth will soon unveil Water Avenue Coffee Company, a roasting facility and retail space, next door to the forthcoming Bunk Bar on SE Water Avenue and Taylor Street.
Though the white butcher paper shrouding the windows at Water Avenue's permanent digs won't be removed for another month or so, Milletto and Smyth are shacked up temporarily two doors down in the former Bakery Bar (1028 SE Water) space until the cafe's opening day. (Note: The popular Bakery Bar has consolidated its operations at its roomier Glisan Street location.) By summer, the ex-Bakery Bar space will be morphed into the kitchen of Bunk Bar, the adjacent vacant corner space directly across from Bruce Carey's Clarklewis will become Bunk Bar itself, and Milletto's Water Avenue Coffee Company will fill the neighborhood's caffeine void for years to come. With the charcuterie palace Olympic Provisions right down the street and the City of Portland marking its territory with four miles of fresh streetcar tracks, it appears that the Central Eastside Industrial District is finally becoming habitable—even fashionable.
Current hours are Monday through Friday from 7:30 am to 5:00 pm.