Beard Award
James Beard Chef Awards Tonight
Can't make it to New York? Nostrana will live-stream the foodie Oscars from 6pm.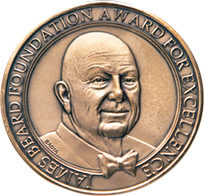 The James Beard Foundation announced its first round of winners at the Media and Book Awards gala last night in New York City. Recipients include the perpetually ravenous Andrew Zimmern of the Travel Channel, provocative LA Weekly restaurant reviewer Jonathan Gold, and the food section of The Washington Post. Eater National has posted a nice run down of winners. View it here.
With four Portlanders as Beard finalists, tonight's chef and restaurateur awards are the main event. Up for Best Chef Northwest are Cathy Whims (Nostrana), Andy Ricker (Pok Pok, Ping, Foster Burger, Whiskey Soda Lounge), and Naomi Pomeroy (Beast). Gabriel Rucker (Le Pigeon) is a finalist in the national category of Rising Star Chef. For those not attending, Nostrana will be streaming the awards live starting at 6pm tonight. So arrive early, order the Insalata Nostrana, chow down on the 2.5 pound Tuscan Porterhouse, and watch Portland represent.