Cocktail Culture
I Need a Drink!
What to have when you need a nip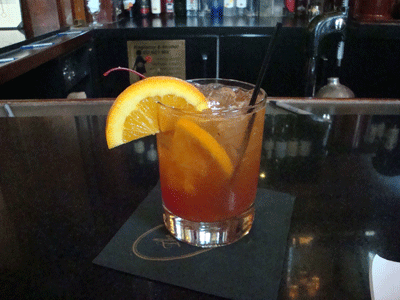 Welcome to a brand-new Bar Pilot feature called I Need a Drink. On a semi-regular basis (or whenever deadline pressures cause my toupee to melt into my scalp) I will take a well-earned break from my Herculean labors and venture out into the wide world of Portland in search of a lovely cocktail.
Today's edition features the Grand Old Fashioned ($10) as prepared by bartender Arthur Smith from the Palm Court bar at the Benson Hotel.
The Grand Old Fashioned
2 oz. Maker's Mark bourbon
1 oz. Grand Marnier
Muddled orange and cherries
Dash of Angostura bitters
Sprinkle of sugar
Top off with Prosecco
This stately creation has all the brawn of a simple old fashioned, but the Grand Marnier gives it an elegant and luxurious boost that brings out the royal best in the fruit mashup. Add the fizzy kick of the sparkling wine and you have a drink fit for a king—or a jack or a 10 of diamonds.
After jawing with Arthur for a bit (martinis, cosmos, and lemon drops are his most-requested drinks) I search the menu for future possibilities. My eager peepers settle on the Benson Bubbler, an imperial blend of Remy Martin Louis XIII cognac, Veuve Clicquot champagne, and a splash of lemon. It retails for $95. "I've only sold one," Arthur tells me.
I almost order a double to cheer him up, but I'd probably have a devil of a time getting reimbursed.