Happy Hour
New Late Night Happy Hour!
Cheap Date: The Secret Society offers a new late-night happy hour to pair with a show at the Wonder Ballroom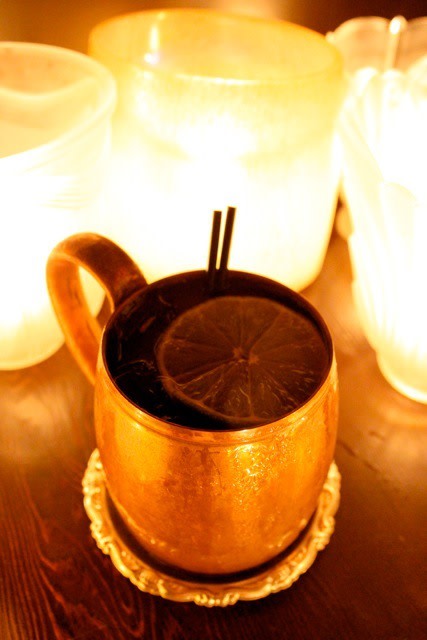 JUST IN: The Secret Society now has a late night happy hour. We feel giddy with insider info just thinking about it, and we're stone cold sober.
This 1907 historic building (at 116 NE Russell St.) was a real members-only space for most of the last century, but now anyone in-the-know can afford to drop by and enjoy a vintage cocktail. For seven days a week from 10 PM-close (12 AM Sun-Thu and 1 AM Fri & Sat) stop by and get some delicious food and $1 off fancy drinks. Every week there will be a rotating "Late Night Special" of fanciful drinking food—this week it's Pulled Duck Confit Sliders with Rhubarb Sauce and Crispy Potatoes for only $8. Also, don't miss the flatbread of the day, such as a recent concoction that included a parsley-pimento salad, chopped hard boiled egg and anchovy fillets, served with pimento anchovy oil for dipping ($7). The menu changes each Tuesday.
Next door to the Wonder Ballroom, The Secret Society is a great place to grab a drink after a show. Consider these rocker n' booze pairings:
May 15: Kaki King
Listen to the talented Kaki King, the first female to be named a "Guitar God" by Rolling Stone Magazine, as she slap bass-es her way into your heart. After the show, head over to the Secret Society and try the popular Moscow Mule. It's an old 50's drink (possibly the first vodka cocktail) made with vodka, muddled lime and ginger beer, served in the traditional copper cup. Can't get much classier than that.
May 30th: Nada Surf
Don't miss Nada Surf, the alternative rock band hailing from the early 90's when they make an appearance in Portland later this month. The band's anthems are a great way to ring in the start of summer, and you can continue the celebration at Secret Society afterwards. Order a Monkey Gland (gin, OJ, grenadine and absinthe), an aptly named drink to sip on while you still have the goofy guys of Nada Surf's lyrics stuck in your head.
June 8th: Bone Thugs-N-Harmony
Witness Krayzie-, Layzie-, Wish-, Flesh-n- and Bizzy Bone, members of one of the biggest-selling hip-hop groups of all time who are still rocking after 15+ years. After singing all the lyrics to "Foe tha Love of $" (you know you remember them all, well maybe not Bizzy's), drop by the Secret Society for a classy high-roller drink like a Manhattan or Old-Fashioned.