Happy Hour
Happy Hour: The Hop & Vine
Hop over to the Hop & Vine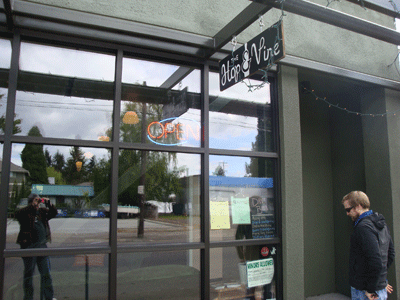 As a business model, trying to be everything to everyone is a guaranteed fail—unless you're Applebee's, of course. But occasionally someone with exceptional taste and modest ambitions can accomplish amazing things. This is certainly the case with owner Yetta Vorobik and her protean establishment The Hop and Vine on North Killingsworth.
Billed as a bottle shop that features local food and drink, Vorobik has created a charming oasis of comestible culture. Her shop combines the earthy elegance of a rustic French lunch counter, with the bonhomie of a neighborhood pub, and the casually Dockered sophistication of a wine bar. Here you have the option of relaxing with a smartly prepared cocktail from a small, but well-curated selection of spirits. Brew believers will squeal with delight over her six rotating taps and immense selection of craft beer by the bottle, which you are welcome to pop open and quaff on the premises. Vorobik's discriminating eye extends to a wine collection that features hard-to-find vintages alongside regional varieties that are both palatable and reasonably priced.
OK, that's all well and good. Now when do we get to the Happy Hour part of our program? It starts at 3 p.m. every day, but it's especially captivating on Sundays (3-midnight) and Mondays and Tuesdays (3-8). The rest of the week it's an all-too-brief 3-6.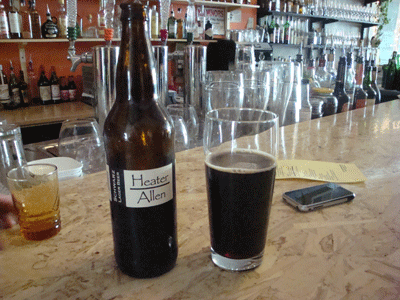 Ever conscious of the Oregon Liquor Control Commission's increasingly fickle ideas about Happy Hour advertising, Vorobik insists you must show up to find out about drink specials, but typically it's a buck off of tap beer or one of the 20 or so wines available by the glass. Last time I was in, I enjoyed a frothy pint of Laurelwood's outstanding Work Horse IPA for $3, and there were also pours from Lompoc Brewing, Oakshire Brewing, and Delaware's renowned Dogfish Head Brewery. If none of the draughts are to your liking, simply reach into the cooler for anything from the Heater Allen Brewery in McMinnville. You won't be sorry.
The food is light and savory, ranging from a plate of rosemary olives ($2) to bacon-wrapped dates ($3) to surprisingly filling comfort food, like the tomato soup with grilled cheese panini ($5). Currently on the menu there is a Nutella and peanut butter panini with vanilla ice cream for $6 that should make your heart flutter with delight—right before it stops.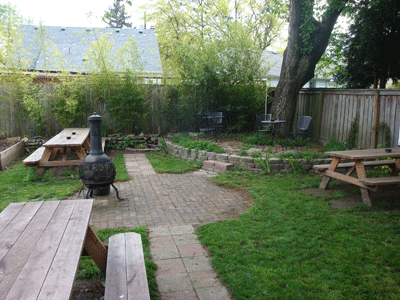 At the front of the house there's an assortment of comfy couches and for summer lollygagging, the Hop and Vine's backyard patio is as serene as an English garden. The main thing I loved about the place was that I felt right at home about 30 seconds after I walked in. And that might be the best Happy Hour bargain of them all.