Piggin it
The Greatest Piggy Party on Earth
Cochon 555 comes to Portland for an all-out pork orgy, and a local chocolatier gives you a chance to win tickets.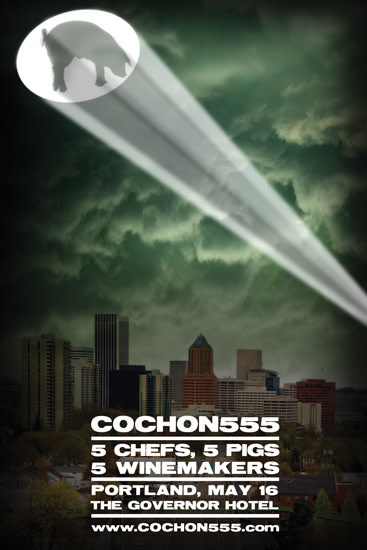 Reflecting on a recent trip to Portland, my friend from New Zealand fellow food writer Lauraine Jacobs suggested that Portland ought to be renamed "Porkland," an apt moniker for a city with a maniacal affinity for all things pig. Consider if you will, the evidence from our city's menus: There's bacon-studded salted caramels from Xocolatl De David, ice cream anointed on corn bread then capped with maple syrup and bacon bits at Le Pigeon, a food cart called The People's Pig whose showcase item is a porchetta sandwich, pork rib barbecue at Podnah's Pit, and pork belly this-and-that on nearly every menu in town. The baby bottles in Portland? I for one like to think that those are spiked with rendered pork fat too.
This probably explains why most who attended last year's Cochon 555, emphatically claim it was one of the best and most unique events they had ever attended in Portland or anywhere. Period. These endorsements are why you'll find me among the lard-fueled masses Sunday May 16th at 5pm at the Governor Hotel in Downtown Portland. Tickets are $125 and can be purchased here.
One part contest and all parts all-out pork orgy, Cochon 555 is a competition wherein five local chefs are each given one of five 140-pound pigs and asked to be as creative as possible in making dinner by using each and every part—from brains to fat to jowls to chop to trotters. This year's chefs are Naomi Pomeroy of Beast, Gabe Rucker of Le Pigeon, Cathy Whims of Nostrana, Jason Barwikowski of Olympic Provisions, and Andy Ricker of Pok Pok, Ping, Foster Burger, Whiskey Soda Lounge, and just about every other new eatery in town. Additional guest chefs who won't be participating in the competition include Portland's king of pork Adam Sappington of Country Cat, Gregory Denton of Metrovino, and David Anderson of Genoa. Reserve wines will be provided by Elk Cove Vineyards, Sokol Blosser Winery, Big Table Farm, R. Stuart & Co. Winery, Et Fille Wines, Anne Amie Vineyards, McCrea Cellars, Long Shadows Wineries, Domaine Serene, Chehalem Winery and Syncline.
The Portland stopover of Cochon 555 is part of a nationwide ten-city tour, and the winners of each local event will face off in the Grand Cochon in June during the Food and Wine Classic in Aspen. The event "serves as a link to preserving heritage breed pigs by promoting breed diversity in the national community," says the web site.
If you're short on change and feeling lucky, master chocolatier David Briggs of Xocolatl de David and the organizers of this event have rigged up a promotion. Buy an amazing Xocolatl de David Chicharrón Bar at Cacao, The Meadow, Cheese Bar, Cork Wine Shop or Meat Cheese Bread for a chance to find a golden ticket that grants free admission. Even if you don't find the winning foil, the chicharrón bar is life-changing in and of itself. What are you waiting for?