Happy Hour
Happy Hour of the Week
Poor Richard's is an oldie but goodie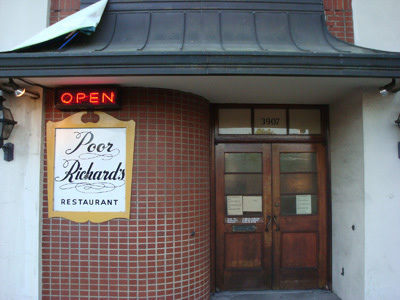 Once, while getting bombed at My Father's Place with writer and rocker Willy Vlautin, we talked about our mutual fondness for old man bars.
"I like drinking with old folks," he said. "They've already done it." Since we were on our fifth round, I just nodded sagely in agreement rather than ask him to elaborate. His statement makes perfect sense. I would rather listen to tall tales about someone's glorious (and probably fabricated) past than about unrealized ambitions in the present. I mean, if you've heard one hipster tell you about his new Brian Wilson-influenced band with dueling glockenspiels, you've heard them all. But listening to a Korean War vet talk about the time he changed the oil in Eisenhower's jeep? Oh baby.
Poor Richard's at NE 39th and Broadway is just such an ancient enclave. With "two-fer" steaks, a practice that's been in place since the Nixon administration, and decor that suggests a disco-era IHOP, Poor Richard's is a good spot to find the ghost of family dining. Grammy and Grampy treating the kids' kids to root beer floats and French dip sandwiches, with pie and ice cream (vanilla please, none of that sinful chocolate) for dessert. It's among the last of a dying breed.
The Almanac Room is Poor Richard's sporty little bar, a drinking den for grizzled, blue-collar types. From 3–7 pm Sunday through Friday, loungers can swill puissant Happy Hour drinks ($3.75 for double wells) and partake of a generous bar menu. You can certainly do a heckuva lot worse than a burger and fries for $4.95, plump and crunchy onion rings for $2.95, and a more-than-respectable Caesar salad with chicken breast for $5.50.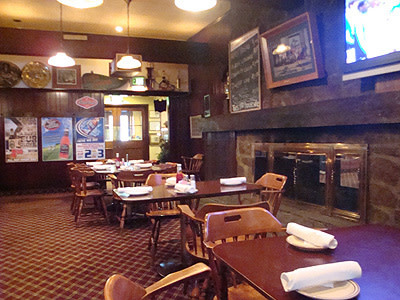 On Tuesdays, oenophiles can get plenty of bang for their buck with glasses of house wine (red or white) for a measly dollar. I'm guessing it's probably something from the finest vineyards of Des Moines and not a Willamette Valley pinot, but what do you want for 100 pennies?
Yet the mature clientele stands in odd contrast to the $5 specialty drinks listed on the chalkboard to the left of the fireplace. Here you can find such beguiling sorority sister sensations as an Apple Cosmo, a Jungle Love (Malibu rum, banana liqueur, and pineapple juice), and my personal favorite, the Grape Cooler (grape soda and vodka). I've heard of old timers entering their second childhood, but anyone ordering from this cloying cocktail list is probably looking for a senior citizen's Spring Break.
And all too soon, I will become one of them. Closing time is at 10, so you can get home in time to see Murder She Wrote.