Mixology 101
Sex 2 Sells
Going to see the movie? Have a cocktail!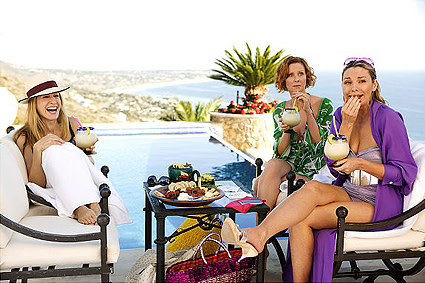 Ever mindful of that all-important product tie-in designed to spur us to even greater heights of consumption, the folks at Mexico's Dobel Diamond Tequila sent this little gem my way. (By the way, Sex and the City 2 opens Thursday. Make sure to bring plenty of tequila!)
With the highly anticipated Sex and the City 2 movie in theaters at the end of May, we thought it would be fun to salute the men in the movie for a change. Below, please find cocktails inspired by the MEN in Sex and the City that we have grown to hate and love. And lets face it—without them, there wouldn't be much sex in the city.
Get it? Ha ha ha! True that, oh witty press release! But I'm a bit surprised we're not seeing Sex in the City 2 Happy Meal toys at McDonald's. Another golden opportunity missed. Anyway, if this sort of branding raises your hackles, feel free to substitute the tequila of your choice.
By the way drinking buddies, if you have your own movie tie-in cocktail recipes, I'd love to hear them. Perhaps something from Animal House or Leaving Las Vegas?
Mr. Big and the Dobel Neat: This cocktail blends elegance with a touch of arrogance… just like Mr. Big's distinct style.
2 parts Maestro Dobel Diamond Tequila
Glass: Sniffer (Not sure what a sniffer glass is—I suppose they meant "snifter.")
Harry Goldenblatt & The Perfect Paloma: Like world's number one husband, Dobel's Perfect Paloma is flawless.
2 parts Maestro Dobel Diamond Tequila
4 parts Grapefruit Soda
Splash of Lime Juice
Glass: Rocks
Garnish: Lime Wedge
Smith & the Spicy Pina: Smooth and sweet with the heat of Jalapeño—the Spicy Pina is a sexy and irresistible combination like Smith.
2 parts Maestro Dobel Diamond Tequila
2 parts Pineapple Juice
.5 part of Simple Syrup
Splash of Orange Juice
Slice of Muddled Jalapeño
Glass: Rocks
Garnish: Jalapeño
Steve Brady & The Gran Dobel: The Gran Dobel is solid and without fuss, much like Steve.
2 parts Maestro Dobel Diamond Tequila
Splash of Gran Mariner
Glass: Shot
Garnish: Blood Orange Wedge Sprinkled with Cinnamon
Served Chilled