Behind the Bar
Set 'Em Up, Joe
Tell me about your bartender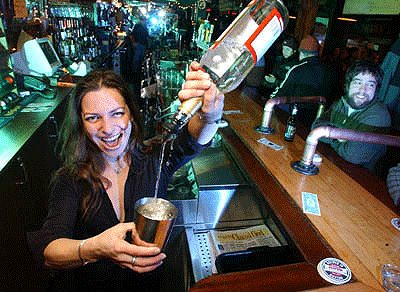 Just got through perusing an article by bartender/writer Karl Kozel in the Huffington Post about the primary responsibilities of a good bartender. Kozel believes, and rightly so, that there's more to the business than being able to concoct a drink with 11 ingredients.
Kozel recalls the past fondly: "…twenty or thirty years ago, good drinks were made, but the bartenders also had personalities, and many were unique characters. They were fast, facile, knowledgeable about current events, business, the arts, and were pretty good with their fists if they had to be. Thank god the era of fisticuffs is behind us for the most part, but you get the picture."
Is this an accurate memory or is Kozel perhaps missing a movie cliché that simply does not exist? You know, that dapper fella who always knew what you were drinking and who let you run a tab when times were tight. The garrulous Irishman with a hearty laugh and a million stories. The wise-cracking sports statistic machine. The soulful ex-bar fly with better advice than Ann Landers. I spend time in a lot of bars and for the most part, the bartenders in this town are a fairly laconic bunch who go about their business promptly and professionally. Sure, they'll gab for a bit about the Blazers or the weather or whatever, but their presence is usually required in about 50 other places, so conversations tend to be brief. For that matter, if I'm at a bar I've most likely brought my own company to banter with, or, if I'm alone, I prefer to stay that way.
Discuss drinking buddies: Do you appreciate a chatty bartender? Should they instinctively be like cab drivers and barbers and be able to hold up their end of a conversation on demand? Or do you just want the drink and no gab? Tell me about your favorite bartenders, local, factual, or idealized. As for me, I was always a big fan of Miss Laura May Carroll at the Matador, a veteran drink slinger who could talk your leg off about her pet mountain lion, if you wanted to listen—and if not, that was fine too. But she always remembered what I was drinking.