Happy Hour
Happy Hour of the Week
Groovin' at the Blue Monk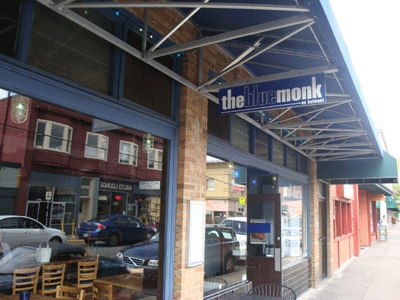 Gambling is a fool's errand. Intellectually, I know this to be true but sometimes the idea that I can beat the odds seizes me uncontrollably—usually with disastrous results.
I was looking over the cocktail menu at erstwhile jazz bar the Blue Monk on SE Belmont when my eyes fell upon a drink named after former Cincinnati Red great (and now disgraced degenerate gambler) Pete Rose. The drink contained vodka, Red Bull, and grenadine, a dismal proposition at best. The ingredients were followed by a challenge: if the customer can roll a 1, 2, or 3 on a six-sided dice, they are entitled to the top-shelf vodka of their choice. If they roll a 4, 5, or 6 then they must content themselves with well vodka. I was hooked.
The bartender, knowing a pigeon when he sees one, ambled over with the die and said, "Go for it, Mr. Lucky." I rolled a 5. Bottom shelf, here I come. Pete Rose tastes like a glass of sickly sweet tonic water that came from the Dollar Store. The house always wins.
Aside from learning a bitter lesson about the evils of gambling, I happily mark down the excursion to the Blue Monk as one of my more successful Happy Hour campaigns. Happy Hour is from 5 till 7 daily (all day on Sunday), and if you're willing to move yourself downstairs to the basement bar (they need the upstairs for the dinner crowd, I'm guessing), you are entitled to an extra 60 minutes of discounted goodness. The downstairs bar has free pool, a TV tuned to ESPN, and a stage for low-key serenades from local combos. Upstairs everything is blue and the walls are populated with several portraits of hepcat pianist Thelonious Monk (hence the name).
There is a healthy selection of food priced at $5.50 during Happy Hour, and everything ordered up by my party of miscreants and troublemakers earned a thumbs-up. I punished a zesty chicken parmesan sandwich, smothered in melted cheese and marinara, served on a robust crusty roll. Around the table, the beet salad, pasta primavera, and pesto cheese bread (pictured) were similarly praised and disappeared in a jiffy. We didn't get around to the meatball sub, but a fellow two tables over was lustily tearing into one with grizzly bear gusto. Food-wise, the Blue Monk's kitchen is by no means an epiphany, but it's far better than serviceable for folks looking to offset their binge-drinking with some sustenance.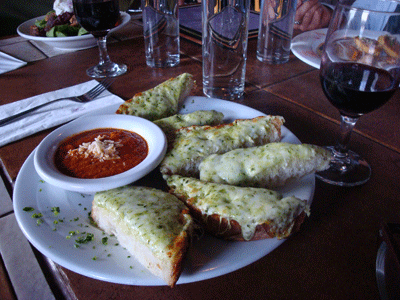 Behind the bar are a dozen worthwhile rotating taps—and as long as the brewery is from these United States, pints are a paltry $3 during Happy Hour. If you find nothing to your liking on draft there are another 50 or so offerings by the bottle ranging from good ol' PBR to pricey monastic imports. In addition to the Pete Rose—which is more of an object lesson than a cocktail—the 20 signature drinks ($4.50 during HH) are mixed strong and tend to be on the cloying side, though the powerhouse French Connection (Bulleit bourbon and Grand Marnier shaken and served up) is recommended if, for some reason, you're going to limit yourself to "just one."
Since the demise of nightly jazz, the Blue Monk has a slightly subdued air, but the confident sophistication lingers in the ace food preparation and lickety-split service. And if you get bored and don't want to roll the dice, you can speculate about the presence of a dumbwaiter in the corner. But no rides unless you like gambling—and sign a waiver.