Franking it up
Meet Your Future Franks
Authors, New Yorkers, and future Portland restaurateurs in Portland tonight for book event.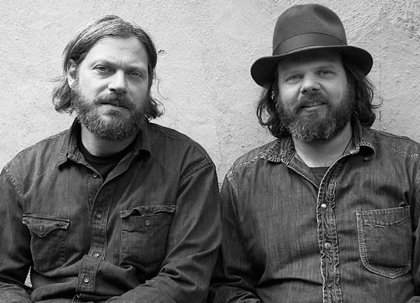 I find it not ironic at all that the very week during which New York restaurateurs Frank Falcinelli and Frank Castronovo land in Portland to pimp their new book, I find myself in their native Brooklyn, working from a coffee shop called Variety where Stumptown is served and everyone around me looks as if they were airlifted from Albina Press in North Portland. That's because Portland and Brooklyn are siblings. Although as New York's most populous borough, Brooklyn is home to more people than the entire Portland area, there is a similarity in aesthetic (DIY), mode of transportation (bikes), clothing (the tattoo), and method of keeping warm (the beard). And given the number of transplants to and fro, I think it's fair to declare Portland as Brooklyn's best new hood. Take that Greenpoint!
This, and the friendship and business relationship between Stumptown founder and Portland/Brooklyn resident Duane Sorenson, is probably why the well regarded owners of Frankie's Sputino, Prime Meats, and Cafe Pedlar have chosen Portland as the future location of their first restaurant outside of New York. And though that won't happen until well into next year, the best opportunity before then to meet the Frank duo and see what they're all about is tonight in Portland at Stumptown Coffee Roasters Downtown location on Third Avenue between Ash and Pine.
The Franks have written a book called The Frankies Spuntino Kitchen Companion and Cooking Manual, and you can pick up a signed copy, enjoy food from Portland's Olympic Provisions and all the beer and coffee you can drink for a measly $25.
Frankie's Stumptown Book Event
Thursday June 24th, 6pm
Stumptown Downtown: 128 SW 3rd Avenue, Portland
Tickets can be purchased at brownpapertickets.com and at the door.