Beer Bulletin
June Under Glass
Train your liver with lager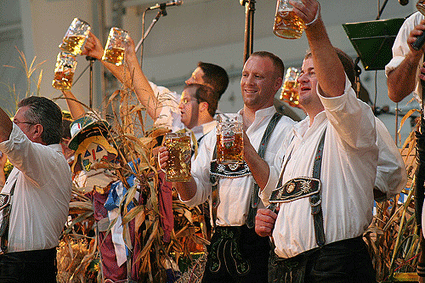 Perhaps with the proper application of positive thinking, daily affirmations, and prayer, we can get the rain to cease and desist—and get the beer pouring in its place. July is the month that brings both the Oregon Brewers Festival and the Portland International Beer Fest, but June has plenty of opportunities to make the suds scene as well. Think of it as a month-long training regimen for the main events. Bottoms up!
The 4th Annual Zoo Brew
Oregon Zoo
Friday, June 4
5 PM – 10 PM
At the Oregon Zoo your $25 entry fee includes a glass and 10 beer tokens for sampling hoppy selections from Alameda Brewhouse, BridgePort Brewing, Cascade Brewing, Double Mountain Brewery, Full Sail, Hopworks, Lompoc, Widmer, Red Hook, and many more. Venerable funk and ska band the Crazy 8's will provide some dance therapy and there's a menagerie of critters that will stay up late to observe your antics. So be on your beast behavior!
Deschutes Brewery Barrel-Aged Beer Tasting
Deschutes Brewery Mountain Room
901 SW Simpson Ave. Bend, OR
Friday June 11
7 PM – 10 PM
If Eastern Oregon is on your travel itinerary, make it a point to drop by the Deschutes Brewery in Bend for a few rounds of Deschutes's most potent beers that have been aging in oak barrels since the dawn of time (OK, they're not that old). Abyss 09, Black Butte XXI, Bourbon Quad and more will be available, paired with an array of tempting hors d'oeuvres, all for the paltry sum of $45.
Third Annual McMinnville Area Habitat for Humanity Brews and BBQs
The Granary District in McMinnville
Friday June 18 – Saturday June 19
Friday 3 PM – 10 PM
Saturday Noon – 10 PM
Raise a glass while raising cash for Habitat for Humanity in picturesque McMinnville. Live music, wine, and food will be plentiful, as will brews from the likes of Heater Allen, Cascade Brewing, Golden Valley Brewery, Block 15, Caldera, Deschutes, and more.
Brewpublic Presents Microhopic
Saraveza Bottle Shop
1004 N. Killingsworth
Saturday June 19
4 PM – midnight
Just because they're small doesn't mean the beer should be overlooked. Reps from several area "nanobreweries" will be in the house at Saraveza Bottle Shop on North Killingsworth for an evening's worth of small-batch sampling. Try worthy ales from Mt. Tabor Brewing, Big Horse Brewing (Hood River), Ambacht Brewing (Hillsboro), and Rivergate Brewing from North Portland, and give some love to the little guys.
North American Organic Brewers Festival
Overlook Park on N. Interstate Ave.
Friday June 25 – Sunday June 27
Friday – Saturday noon – 9 PM
Sunday noon – 5 PM
This is Year 6 for the Organic Brewers Fest, and lucky attendees can dip their beaks into some 75 different ales from all over the map. Fuel organic fervor by tasting brews from Laurelwood, Lompoc, New Belgium, Roots, Pelican, Lucky Lab, Oakshire, McMenamins, and Hopworks. Admission is free, but to get in the beer lines you'll need to buy a (compostable cornstarch) glass for $6 with beer tokens for an additional buck apiece.