Happy Hour
Happy Hour of the Week
Victory's victuals? Very, very good.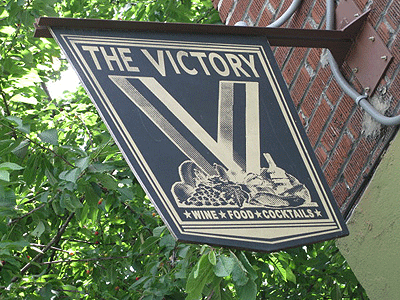 The dusky atmosphere at Victory Bar suits me. Under the room's sepia-toned low light, everything takes on a more mysterious caste. The music is in the background where it belongs and the efficient waitstaff come and go on kitty feet. The art of conversation is actually a thing within reach.
This may not be a big deal to most of you, but as someone who's played bass in decibels-be-damned rock bands for 30 years, the relaxed volume at the Victory is a gift bordering on the princely. It's a revelation that not a word of artful banter is wasted on my wooden ears. I've already ranted and raved about bartenders who can't live without their Neanderthal playlists blasting the rafters, so let's just move on to more productive topics.
Between 5 and 7 daily, discriminating Happy Hour idlers can graze through Victory's $5 food menu, sip $3 well drinks, and take a dollar off the voluminous wine and beer list. More specifically, one can inhale a terrific bowl of spaetzle, which is basically the superior German version of mac and cheese. Loaded with smoky gruyere cheese and topped with crispy shallots, the spaetzle presents adult diners with a devilish problem, namely, how in the world to work through a whole bowl of these gooey noodles without letting out an annoying "MMMMMM!" after each bite. A similar conundrum accompanies the ridiculously rich and pulse-slowing pot de creme.
It's not on the cheap eats menu, but attention should be paid to the Venison Burger ($10) which one of my comrades described as tasting "like meat used to taste." Presumably he's referring to the robust flavor that comes from a creature that's enjoyed a diet of good ol' grass as opposed to an institutional regimen of corn and steroids.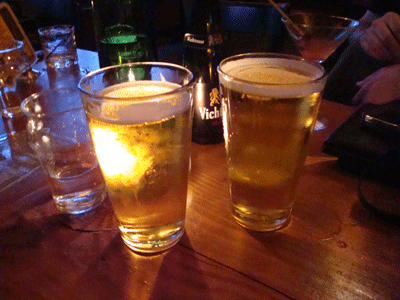 There are over 70 intriguing beers by the bottle—Belgium and Germany are well represented—and a rotating lineup of quality taps. There's much to like beerwise at this SE Division getaway. We suggest you begin exploration immediately.
The two-dozen specialty cocktails are reasonably priced (nothing over $7) and just as generously poured. The cheeky tweaks on familiar names like the Ross Island Ice Tea (gin, rum, tequila, St. Germain elderflower liqueur, lemon, and loganberry syrup) and the Victory Martini (New Amsterdam gin, housemade cucumber vermouth, and garnished with a pickle) are mostly agreeable upgrades. Definitely take a dip into the Safe As Milk … Punch, a head-turning variation on a traditional New Orleans tipple. Your innards may not approve of this caloric confluence of bourbon, brandy, creme de cacao, orange curacao, vanilla, cream, and nutmeg, but your sense of well being will be through the roof. And you needn't be concerned about the possibility of some influential citizen spying you with such a girlish glass of firewater—remember, the darkness is your friend.