Happy Hour
Happy Hour of the Week
Peaks and valleys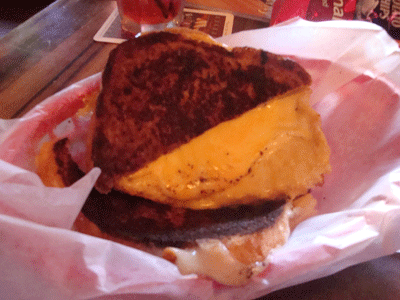 This week's Happy Hour excursion was a bit of a fiasco. I selected Ash Street Saloon based on memories of cheap beer, rib-sticking bar food, a raging punk rock playlist, and a sunny, inviting patio. But as I quickly discovered, memories can be deceptive, if not pathological liars. The cheap beer was intact—pints of PBR were a quarter more than I remembered, but at $1.25 I can't really gripe. Apparently we've hit the bramble patch economy-wise (who knew?). Stiff wells and pints of craft beer are only $2.75, and I think that's worth a toot or two on the ol' vuvuzela. In other words, the drinks are a bargain. And that's where the recommendable aspects of my experience come to an end.
Ash Street's Happy Hour, daily from 4 to 8, has several food items on special for $3, and if that sum seems astronomical, you can content yourself with chips and salsa or a basket of deep-fried toothpicks masquerading as french fries for $2.25. Among the high-end entrees, the quarter-pound burger is probably your best bet: a serviceable frozen patty dropped unceremoniously onto a cunningly sliced bun with a side of Tim's potato chips. If you're seeking a timely delivery of unremarkable starch and protein to anchor an evening's binge, it will do. The chicken strips rival any I've ever tasted—that have been sitting under a gas station heat lamp since the Carter administration.
The creme de la crap though, was the grilled cheese sandwich which arrived charred black and fused to the basket like a greasy barnacle clinging for dear life to the hull of some doomed ship that would never see port. I vowed to never eat food again.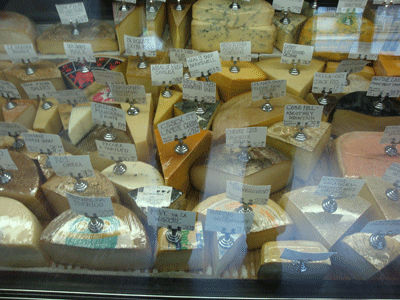 Something had to be done to salvage a lousy day. As luck would have it, I managed to hitch a ride to the Cheese Bar at SE 60th and Belmont, an establishment that does not have a Happy Hour, but really should. The Cheese Bar is the retail space operated by Steve Jones, of Steve's Cheese, a man who knows his curds. In addition to a massive selection of artisan cheese and cured meats, the Cheese Bar has six rotating taps of worthy beers (I had a spicy IPA from Everybody's Brewing) and a smart little lunch counter that dispenses deftly rendered salads, sandwiches, and gourmet nibbles. My friend and I opted for the English sampler plate that came with three complementary cheeses, a stack of bread slices, and a chutney that caused my palate to sing an impromptu aria. We also split a superb salad of arugula, fresh peas, golden potatoes, and bacon shavings. This place is crying out for a Happy Hour at the top of its lungs!
The Cheese Bar deserves to succeed. It's a market and cafe for fans of high-quality cheese and charcuterie—and you will pay for the privilege. I took away a modest wedge of nutty cow cheese from a small farm in Utah ("They only have six cows," I was informed) that set me back $9. Then again, if you're of a more frugal nature, there's always the grilled cheese sandwich at Ash Street Saloon. You may not be able to dislodge it from the basket, but at $3, you'll have plenty left in the piggy bank for another beer.