Happy Hour
Happy Hour of the Week
Picks and Pans at Cafe Nell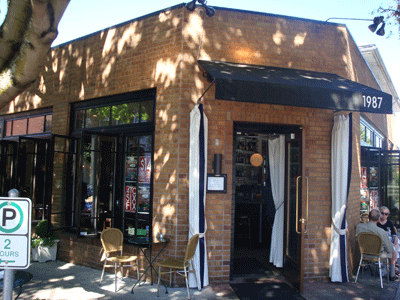 Remember in those old Warner Brothers cartoons when Wile E. Coyote would almost catch up to the Road Runner—right before the latter took off in a blinding burst of speed that left the road aflame? Well, now you have an idea of how fast I want to get out of the office today. The sun is out, there's a beer fest going on, and I still have to iron my cargo shorts.
Since brevity is the soul of wit, I will recap my Happy Hour visit to Cafe Nell by describing its various components as either rocking or sucking. Besides, our analytics indicate that in the kingdom of short attention spans, it's best to get right to the point.
IT ROCKS: Happy Hour eats are varied, inexpensive, and plentiful. Particularly applause worthy was the herb omelet and french fries ($4); the tangy barbecue bacon slider ($2.50) and the fried onion and pickle slider ($2.50). The head-on collision of spicy mustard, crunchy onion slice, and dill pickle was totally Einstein.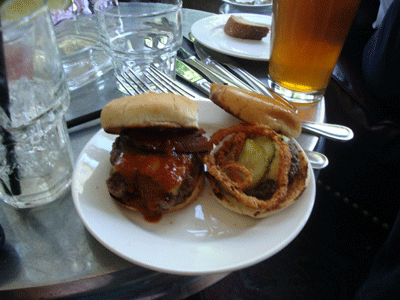 IT SUCKS: The Old Bay Peel and Eat shrimp ($5) had all traces of the sea boiled right out of them. Anyone for packing peanuts?
IT ROCKS: The Tom Collins (gin, lime juice, and club soda, $4) was perfectly executed. This old lady staple was tart and bitter, and it absolutely annihilated a Sahara-like thirst. It's brawnier brother, the John Collins (same except bourbon instead of gin, $4) was surprisingly genteel, and equally well crafted.
IT SUCKS: A cute little cocktail called the Kozy Kitten (vodka, peach puree, maraschino, vanilla, and soda) was one of the all-time worst beverages I've ever sampled. A tablemate described it as "vanilla toothpaste" and I can't improve upon that. For all we know, it's still sitting on the table, three-quarters full. Poor kitty!
IT ROCKS: The service was speedy and super efficient. A waiter who can gather up a deluxe load of dirty crockery and take a complicated drink order at the same time is a real pro.
IT SUCKS: My contempt for Happy Hours that end at 6 PM are well documented.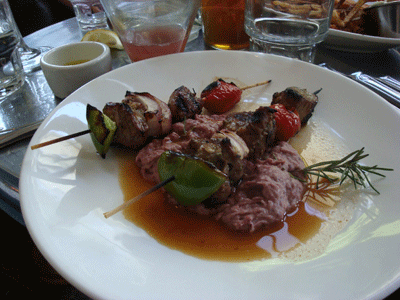 IT ROCKS: It took the bartender a while to change the keg for a pint of Ninkasi, so they treated us to a plate of lamb skewers with red bean puree (normally $6). The tender, succulent meat was cooked to a turn and the puree was so flavorful we started dipping our fries in it. This is the sort of consideration that inspires customer loyalty.
IT ROCKS: The four of us ordered a barge full of food and drinks, including a whole pan-fried trout with french fries and coleslaw, and we escaped with a bill that came to less than $20 apiece. Despite my fondness for dives, Cafe Nell is a quality dining establishment with bountiful, expertly prepared entrees that are worth every nickel. If you can find a way to avoid the adorably named Kozy Kitten, you will most definitely stumble home stuffed and satisfied.