Networking
Callahan, Call Kinky!
Cowboy philosopher seeks outré cartoonist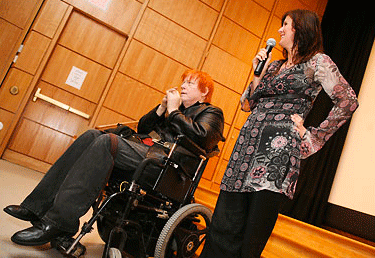 Spent the morning chatting on the phone with musician, mystery writer, and erstwhile Texas gubernatorial candidate Kinky Friedman about his upcoming Portland show on July 28. I'll have the meat of the interview posted well before his performance, never fear.
The first thing Kinky wanted to know was why his ol' pal John Callahan—Portland's most famous quadriplegic cartoonist—wasn't returning his calls. "Tell him I got a paying gig for him," Friedman said right off the bat. The upshot is, the Kinkstah wants Callahan to play a few songs with him at the Roseland Theater show. He also plans to introduce him to his buddy Billy Bob Thornton, who may be interested in covering some of Callahan's songs for an upcoming release. In case you didn't know, Callahan is an awesome singer-songwriter as demonstrated on his 2006 album Purple Winos in the Rain.
So John, if you're out rolling around, please call Kinky. He's worried about you. Did I mention it's a paying gig? And if anyone knows Callahan's whereabouts, would you please pass this along?
Yes, Kinky really does answer the phone by saying, "Start talking." Stay tuned for more.
Note: Kinky curses twice in the video below. You have been warned.