Happy Hour
Happy Hour of the Week
A Lucky Strike indeed!
A recent broiler of an afternoon found yours truly and his special lady friend parked and panting in the patio at Lucky Strike on SE Hawthorne. It shares the old Masonic Temple that also houses rowdy all-ages venue the Hawthorne Theater, occupying the former India Oven slot. The interior is dark and chummy, and the ceiling is painted a glitzy gold. A contented Buddha statue adorns the corner bar, a homey touch I've missed since the closing of Hung Far Low.
The Happy Hour (3-6 and 10-close) menu is a hoot. Under the "Drinks" section it reads, "Well drink, very good version $4." To put this pronouncement to the test, my girlfriend ordered a screwdriver, which is her well standby. Since she used to tend bar herself, she can be awfully fussy about her cocktails. After an experimental sip, the verdict was in: "This is the best screwdriver I've had in years. Certainly the best one I've had since I moved to Portland," she opined.
Any joint that actually takes a measure of pride in the preparation of its well drinks deserves a high five. In my experience, the Happy Hour well drink is about as enjoyable as casket shopping with an elderly relative. A fleeting splash of bathtub gin, a quick spritz from a sticky gun, and presto! You are the proud owner of a beverage fit for a Sterno-drinking hobo. I usually consider it a victory if my gin and tonic doesn't cause blindness, insanity, or eat a hole in the table. Lucky Strike FTW!
Whilst my lovely inamorata happily lapped up her screwdriver, I ordered an avocado milkshake ($8 for the version with a healthy pour of gold rum in it) and several small plates of chow ($3-5). The shake is actually kind of fun to drink, and it comes with a huge bubble tea straw for power slurping. Imagine a silkier version of mashed potatoes (except with avocados) merrily blended with a dollop of yo-ho-ho juice. It's a spendy concoction, true, but slugging it down is time well spent.
The better-than-average drinks at Lucky Strike are a bonus, 'cause its raison d'etre is the sizzling Sichuan entrees. Our plate of green beans ($5) was so crowded with lethal red peppers that it put us in a Yuletide mood. The beans were perfectly cooked with just the ghost of a snap left in them. It's also fun to share a plate and battle your companion with chopsticks to see who gets stuck with the most infernal beans.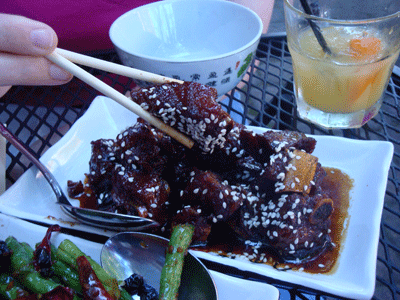 The Guinness pork ribs ($5) are a smoky-sweet sensation, like meat candy on a stick. The Dan Dan noodles ($4) are practically smoldering with chili oil, but even so, the ground pork and scallions are not overpowered. And the Kung Pao chicken ($5) is tangy, hot, and refreshingly uncluttered—just chicken, peanuts, and the devilish Sichuan peppers—with no superfluous veggies (e.g., baby corn). Have I mentioned that the presence of baby corn in Chinese food makes me fly into a white-hot rage? Well, now you know.
Just to prove I'm not totally in the tank with Lucky Strike, I will say that the service is a little lackadaisical, though friendly and gracious. The place seems understaffed, but if the crowds keep queuing up, I would imagine a "Help Wanted" sign will soon be in the works. And in a city where decent Chinese food is harder to find than a yeti in the Sahara, that's definitely a good sign.