Beer Bulletin
We Have A Winner!
Five brew believers take home prizes!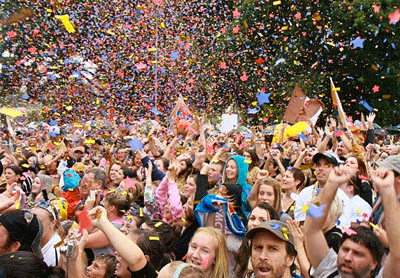 We have concluded with our Vote for Your Favorite Beer contest, and we have a handful winners who may claim their enviable prizes at the Portland Monthly office (623 SW Oak St. #300) between the hours of 9 a.m. and 5 p.m. from now through Friday. So let's have a hearty round of applause for the four winners of $50 passes to the Oregon Brewers Festival (2 mugs and 40 beer tokens each):
Melva Conner
Joe Morris
Elle Poindexter
Daniel Reed
And finally, an equally enthusiastic hip-hip-hooray to Erik Lindberg who won himself a $50 gift certificate to Belmont Station, Portland's premier bottle shop. To the 633 people who didn't win anything, remember, it's an honor just to be nominated.
So who were the top vote-getters amongst the host of Portland beers that we wrote about in our July Craft Beer feature? Well, Widmer's Deadlift racked up 27.3 percent of the vote, followed by Laurelwood Workhorse IPA (11 percent) and Full Sail's Session Black (8.9 percent).
For beers from elsewhere around the state, Ninkasi Tricerihops took top honors with 23.7 percent of the vote; Deschutes Black Butte Porter, and Rogue Irish Lager were the runners-up. I'd also like to point out that there were a ton of write-in candidates. The Honey Red from nano-operation Natian Brewery, the Vortex IPA from Fort George Brewing, and Double Mountain's India Red Ale apparently have robust followings. So the real winner? Diversity!
Many thanks to Chris Crabb from the Oregon Brewers Festival and Carl Singmaster from Belmont Station for the donation of such fantastic prizes!