Happy Hour
Happy Hour of the Week
3 Doors Down does it right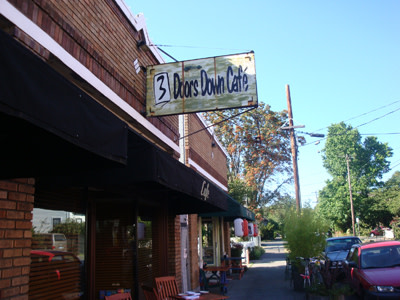 My mercurial moods always get me into hot water. "You flip-flop between crummy little dives and places I can't afford!" read the irate email. Well, "Justin," let me see if I can break it down for you. There are times when my financial prospects aren't so rosy. On those occasions I favor a Happy Hour where a few crumpled bills will fill my rumbling belly and perchance blur my sobriety. When the eagle screams, I believe in stimulating our local economy by disposing of as much of my paycheck on swanky cocktails and small-plate snacks as possible. That's just how I roll.
A recent trip to 3 Doors Down belongs firmly in the latter camp. It's a classy spot where I don't skimp—the food is just too well prepared and the drinks are simply breathtaking. Will I regret my profligacy at some point during my two-week cycle between pay days? A little bit, but the sense memory of the creamy white bean spread or the dazzling eggplant parmesan ($8.25) usually buries any nagging recriminations. It's a small space, one that's not conducive to a big party of blowhards, but for small, civilized groups or a romantic tete-a-tete, it's the bee's knees.
One of the factors that weighs most heavily in its favor is the relaxed atmosphere. Happy Hour is only available on Sunday and Tuesday-Thursday, but it lasts all night, so you've got plenty of time to linger over a brilliant salad of Bibb lettuce, chives, smoked bacon, and garlic dressing ($4) that will curl your uvula. Don't overlook the house specialty, a penne pasta with vodka sauce and sausage ($8.50) that melds flavors of pepper, ripe tomatoes, and a jab of licorice from the fennel into an entree that will consciously make you slow down while eating it. All the better to savor the ingredients—and make the dish last just a wee bit longer. The Zuppa del Mare ($10) is a zingy seafood stew of shellfish and shrimp seasoned with saffron that tingles all the way down.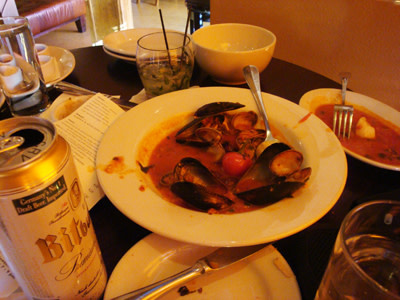 If you turn away for just a moment, chances are there will be a fresh plate of Pearl Bakery's pugliese bread ($2)—a crusty rustic Italian bread that could sop up an oil spill—when you return your gaze to the table. Nope, they're not cheap with the bread at 3 Doors Down, and the accompanying Tuscan white bean spread is a subtly piquant gem that should be smeared on anything that doesn't move.
Lest you think I'm giving the drinks short shrift, rest assured nothing could be further from the truth. In the hands of bartender Matt Stiles, everything from a mundane martini to one of his can't-miss daily specials is rendered with Swiss-watch precision. Case in point, the mojito, a drink I normally avoid because it's usually mixed in amateur fashion (too much mint or lime). Stiles, however, understands that a proper cocktail is a whole story unto itself with a beginning, a middle, and an end. Whether it's the proportioning, the stir, or the dash of orange bitters, Stiles has a gift for weaving the ingredients into a superb three-part harmony of prickly mint, limey tartness, and the light rum's sweet burn. He's performed similar sleight-of-hand with virtually every cocktail he's ever served me—and that's a goodly number.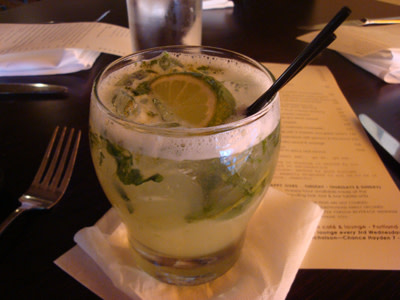 The prices may appear spendy to anyone who's more used to plunking down a few measly shekels for vulcanized chicken wings at Tuffy's Tavern, but the value of the overall experience is off the charts: prompt and amiable service, crackling-fresh ingredients, and deftness of execution is not something you find at every hole in the wall.
Adieu, 3 Doors Down! I'll return in two weeks with a bulging wallet and an empty stomach.