Happy Hour
Happy Hour of the Week
The great outdoors at Bar Bar
A patio is just a patio: a cement parcel out back where nic fiends can get their smoke on and sun birds can lounge and lollygag. A patio is nothing to get excited about—unless there's more than one of them; a pair of pastoral parlors tastefully arranged for optimum chilling.
The recently opened Bar Bar, the drinking den that adjoins Mississippi Studios, boasts two (soon to be three) such bucolic backyards: the landscaped back patio, and the roomier side patio where musicians can wreak artful havoc. Impromptu concerts have been known to spontaneously erupt thanks to the Bar Bar's proximity to Mississippi Studios. Members of Blue Giant and Dolorean dropped in to kick out some jams on a recent balmy day.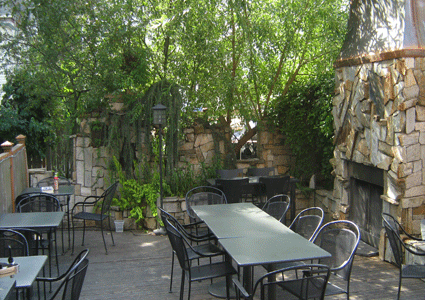 Happy Hour itself takes place weekdays from 4-7 and on weekends from 2-7. The modest specials are limited to drinks only, unfortunately, no food (or wine) specials to be had. On the beer and booze front thirsty patrons can quench themselves with $2 PBR or Tecate tall boys, $4 well cocktails, $5 margaritas (in a pint glass, FTW!), and slice a buck off a well-rounded list of $4.50 craft beers.
Though not discounted, the food menu—already pretty cheap—is smartly executed and reflects well on Bar Bar and its expansive environs. For those looking for big-bite bounty, juicy burgers made from Cascade Natural beef (available with cheese or as a double from $5-7) await. In the spirit of catering to a diversity of appetites there's a satisfying housemade veggie burger too ($6.50). Throw in a tasty version of the American Wedge salad topped with onion rings ($4.50) and you have a rib-sticking vegetarian feast (ask about the shortening in the fryer if you're still dubious).
Should you wish to share the fare with your tablemates, the fries ($2.50) and onions rings ($3) are serviceable staples. But the featured attraction is "The Box," ($8.50) an assortment of finger snacks (cheeses, house-baked corn nuts, hazelnuts, cherries, chorizo) inexplicably served up in an old-time metal strong box (many of which have already disappeared). Novelty aside, it's an enticing spread of goodies, one that practically demands to be passed around. Random Order pies, chocolate brownie alamode, and root beer or dark beer floats (awesome idea—about time!) provide relief for any sweet tooth flare-ups.
Benign basics mixed with a few surprises are what you'll find at Bar Bar—and if you're lucky, perhaps the chance to catch some indie-rock royalty riffing at the table across from you. Just pass 'em The Box by way of an introduction.