Mixology 101
My Liquor Cabinet Sucks!
Even so, cocktailbuilder.com can help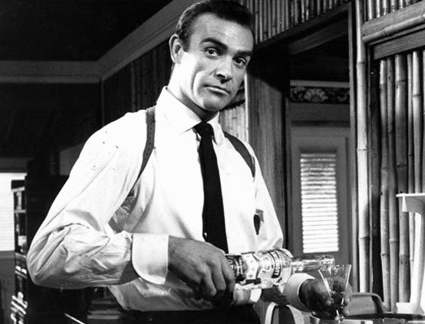 It never fails. Whenever someone drops by and has the gall to say "yes" to my insincere offer of a cocktail (it was a rhetorical question! You know, like "Yeah, but what are you gonna do?"), my liquor cabinet will be drier than Alan Bennett's wit.
Invariably I'll have some rotgut brand of vodka, the last dribble of Old Grandad bourbon, and maybe some gin. And mixers? Ha! That's a laugh. Like regular people have tonic water on the premises.
Luckily I discovered cocktailbuilder.com, and from now on I'll be ready for any booze moochers that darken my doorstep. You simply enter the ingredients you have on hand and it will tell you which drinks you can make without a trip to the market.
At the moment I can make:
Bitter Orange
2 oz of gin
4 oz of orange juice
1-3 dash of bitters
Combine gin, juice and bitters in a shaker with plenty of ice. Shake well and strain into a collins glass with a couple of ice cubes.
Screwdriver
1 1/2 oz of vodka
4 oz of orange juice
Pour ingredients into a collins glass.
Gin & Tonic
1 part of gin
1 part of tonic
Serve over ice, garnish with a lime.
And something called a Presbyterian
3 oz of bourbon
ginger ale
sparkling water (or other mineral water)
Pour bourbon over ice cubes into a chilled highball glass. Add equal parts ginger ale and sparkling water. stir gently.
Now you give it a try and tell me what awesome cocktails you came up with—and I'll be over shortly with my crazy straw!