Celebrity Sighting
Dan Aykroyd Redux
Or, what would I do for free vodka?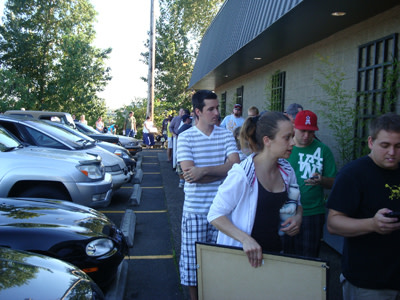 "What if I don't want to see Dan Aykroyd?"
The guy in the 4 × 4 pickup was really irritated. It was stupefyingly hot in the parking lot and he wanted nothing more than to slip into Jantzen Beach's Stateline Liquors and pick up a fifth of something. Instead, there was a line of 200 citizens stretched out the door, some clutching movie memorabilia, awaiting the opportunity to get a picture and autograph with Blues Brother, Ghostbuster, and artisan distiller Dan Aykroyd, who was on the premises stumping for Crystal Head vodka.
Fortunately, customers were ushered directly in. But if you were waiting for an audience with Dr Detroit, you would have to stand outside in the record humidity perspiring like a galley slave. This is the predicament that myself and two boon companions found ourselves. Considering we'd already suffered the torments of the damned in bumper-to-bumper traffic just to get there, we were in no mood to be patient. Besides, Dan (yep, first-name basis) told me just to go to the front of the line. Sure, no problem.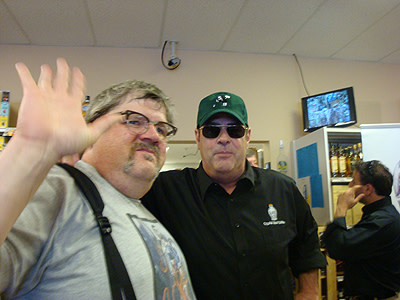 First of all, I grossly misjudged the situation. I was envisioning a quiet, suburban liquor store with perhaps a dozen people in Ghostbusters jumpsuits milling around. Ha! Apparently the Saturday Night Live cult of personality is alive and well in Portland. There were fanboys and girls as far as the eye could see.

In an act of pure desperation I handed the guy at the door my business card and told him that Dan (yep, first-name basis) was expecting me. I did not foresee success and the folks at the front of the line giggled sympathetically at the utter lameness of my chicanery.
Perhaps Bacchus, the Roman god of spirits and intoxication took pity on me, because the next thing I knew my friends and I were brought face-to-face with the man himself. Nattily attired somewhere between golf pro and paramilitary groupie, Aykroyd jumped up from behind his table and said, "John! Look everyone! It's John Chandler one of the region's best writers, researchers, and archivists." We posed for a few pictures and he gave me a fifth of Crystal Head vodka, embellishing it with a drawing of a flying saucer and the heartfelt sentiment, "John! Cheers! Dan Aykroyd." And throughout this three-minute brush with greatness my mind was completely blank. I think I said, "Thanks."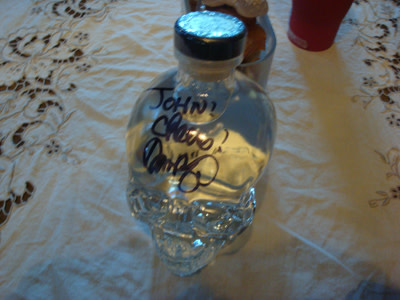 Speaking of spirits, I beseech all of my drinking buddies to take our Portland Monthly drink survey, in order to help us better understand your habits, preferences, and obsessions when it comes to bellying up to the bar. One lucky participant will win a $100 gift certificate for dinner at the Ten 01.