Happy Hour
Happy Hour: Break & Ink
Embrace the pleasant at Bread & Ink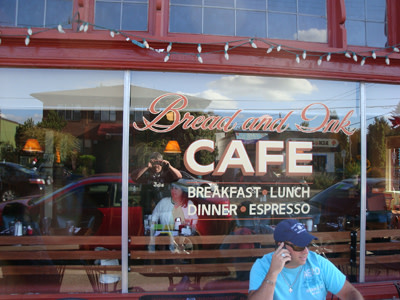 The scene: the Bar Pilot is eye-balling the Happy Hour menu at the Bread & Ink Cafe on SE Hawthorne. A look of confusion on his mug gives way to one of unbridled horror, as if he's discovered rat droppings in his granola.
"You're serving GULF SHRIMP?" I gasped at the waitress.
She didn't bat an eye. Obviously she and the manager had dutifully rehearsed a response to this particular sticky wicket. "Yes, and it's delicious," she replied.
"It's not … floating in British petroleum?"
"Nope. they're fresh, clean, and really good."
"I thought for sure she was going to claim it was a squid-ink reduction sauce or something," chimed in my drinking buddy Lucy, who takes great delight in any discomfort on my part.
After ingesting a mild sedative, I ordered a plate. Five index-finger-sized grilled prawns with a chipotle and lime aioli for $4.50. Guess what? They were delicious. With the ice thus broken, I began to relax and have a good time. Bread & Ink is a casual, homey neighborhood cafe that morphs gracefully from breakfast joint, to Happy Hour hang, to serviceable sit-down restaurant. It's also a place that I've walked by approximately 98,250 times without stopping in, so I decided to rectify that situation. Good on me.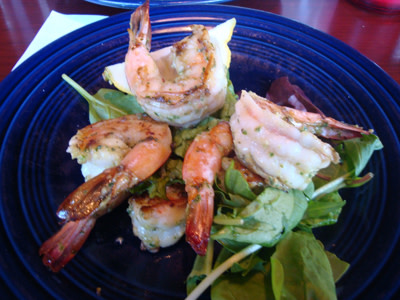 Despite the dreaded 3 pm – 6 pm run time, Bread & Ink delivers just about everything one could ask for in a Happy Hour. Frothy pints of local brews (Hopworks, Double Mountain, Laurelwood) are a sweet deal at $2.50. There are more than a dozen chow options, including a generous plate of curried chicken and cardamom rice ($4.75) and a batch of spinach and ricotta dumplings baked with butter and parmesan ($4.50) that tastes remarkably healthy despite the abundance of cheese. If I hadn't filled up on the shrimp and chicken, the bacon provolone basil sandwich ($4.75) or the cheesy home fries with grilled onions ($3.25) would have gotten a day in court as well.
On the cocktail front, there are 10 specials ($5-6.50) mostly of the sort favored by soccer moms and receptionists on the down-low (e.g., lemon drops, martinis, and mojitos). The Green Tea Lemon Drop ($5) was a bracing and tasty surprise, as the herbaceous tea gave a jazzy lift to the tart lemon. Sadly, the mango-rita ($5) was too sweet in a vague, undefined sort of way, and not especially mango-ish.
Perhaps the most pleasant surprise of all was that Bread & Ink has not really established itself on the Happy Hour radar yet, which means cracking good service and a refreshing absence of neighboring yakkity-yak that makes civilized conversation a fleeting impossibility. For sure it's a good news/bad news situation: good news for us and bad news for Bread & Ink. In any case, I've done my part. Yes, the Happy Hour here is more than worth your time. And the gulf shrimp is excellent. Come on in, the water's fine!