Cheap Eats
Hip-Star Vegan Vittles on NE Alberta
Affordable and awesome animal-free cuisine at the Bye and Bye, oh my!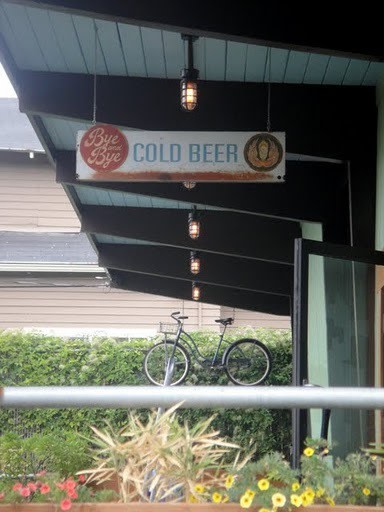 When I first moved back to Oregon nearly three years ago, and settled in the Alberta neighborhood, my husband and I stumbled upon this cool bar called the Bye and Bye. In addition to a good selection of beer, wine, and creative cocktails, we liked it for three reasons: 1) It was cheap; 2) It offered a large indoor space, plus a front and back patio, which meant lots of tables so there was actually a place to sit; and 3) It dished up alarmingly delicious vegan comfort food that worked for both me, a fancies-herself-a-foodie vegetarian, and my husband, the kind of guy who likes to eat tongue burritos and tripe.
Since then, I've convinced other meat-heads to join me there, and every single one of them has left satisfied, if perhaps a bit surprised. What makes this food work for so many is that it's expertly seasoned, hearty without being heavy, and these guys understand that even vegetarians like to eat protein. Among the various entrees and sides, here are three group faves:
BBQ Tofu Platter: It comes with creamy, smoky, dare-I-say buttery black-eyed peas, tangy collard greens, and toasted Grand Central baguette. It's my burger-obsessed sister-in-law's favorite dish because the tofu is prepared just as it should be — pleasantly springy rather than chewy or squishy — and the sauce is rich and savory instead of too sweet. (I am guessing the secret ingredient is nutritional yeast.)
Spaghetti: It' a steamy bowl of noodles, house-made marinara, veggie meatballs, and garlic bread. I'm all about that red sauce because the tomato and herb flavors are so bright, and it's mildly spicy. Even my friend Camas, founder of the Portland Meat Collective, loves it.
The Old Timer: This here is a veggie dog nestled in a bun and then suffocated with bean-and-fake-meat chili, non-dairy cheddar, ketchup, mustard, and onions, and it comes with a side, such as chips and salsa or sautéed brussel sprouts. The chili is spicy and spiced perfectly, but the creamy cheese and condiments keep it from being overwhelming. It's exactly what you need if you're hungover. Or about to be.
All the entrees are $7 or $8, and if you leave still feeling hungry, you have a tapeworm. Happy hour runs from 4-7 p.m., and includes $1 off dinner entrees, well drinks and select draft beers, $2 chips & salsa, and a $4 edamame bowl. They serve a limited late-night menu from 10 p.m. to close, which includes the Spaghetti, the Old Timer, and a Chili Pie I've yet to try, but sounds divine.
The menu at the Bye and Bye hasn't changed that much over the past few years, so it's not like I'm sharing anything that new. But I feel like this tasty tavern just hasn't gotten the public cred it deserves. And lest you think I can only wax poetic about all things dietetic, I'll offer the following "criticism:"
The music is too (expletive) loud. Not deafening, mind you; instead, it's at just the right level (where you just can't quite hear anything anyone is saying, including yourself) to induce a psychotic break. Seriously, all you sexy tattooed and/or bearded guys behind the bar — turn it down.
(Aside: the bartenders are also extremely friendly, chill, fair, and efficient.)
Regardless, the Bye and Bye is now consistently packed. This means they've become quite successful, of course, which usually bodes well for what a place is doing with their food n' booze. And I have to say, it tends to be an unusually attractive crowd, the kind of pretty peeps that remind me of my years living in L.A.'s hipster haven, Echo Park. I truly mean this as a compliment.
But if you don't want to look at the people, look at the walls while you eat your Weeping Tiger (a tofu cutlet, avocado, and jalepeño sandwich), because they're covered in colorful paintings that are actually interesting. Ninety-percent of them are by a 50-year-old Cuban named Juan Casas. According to a bartender, Casas is quite the character. You won't find him online peddling his paintings, but he is at the Bye and Bye every morning except for Wednesday, cleaning. He drives a red truck.