Burger Tidings
Something About (Hamburger) Mary's
Beloved bar and grill returns—to Old Town!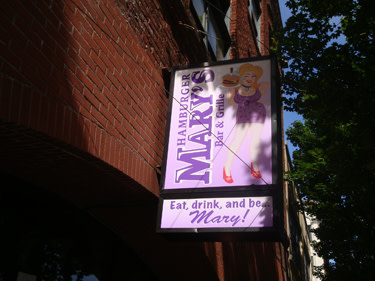 The new home of Hamburger Mary's is 19 NW Fifth Avenue, in the former location of Pasha's Mediterranean Grill, a multi-culti dance club and restaurant. This comes after dribbles and drabs of information were leaked claiming the Portland franchise of this West Coast chain would be located where Bettie Ford's used to be at 1135 SW Washington, while still another source ID'd the site as 239 SW Broadway, an address that currently does not exist (unless the grand opening is going to be held in the intersection between the Benson Hotel and Northwest Rugs, directly across the street from where I am now sitting).
Longtimers will recall the original Hamburger Mary's from its heyday in late 70s and 80s as a bustling, gay-friendly greasy spoon that was situated in the block currently housing the Fox Tower. It was one of several satellite locales that sprang from the first Mary's, which opened in San Francisco's Castro District in 1972.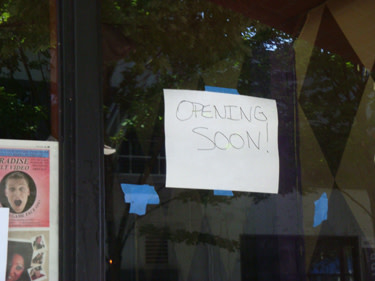 I actually discovered the new location when I was attempting to take a friend to Pasha's for their $7.99 Mediterranean lunch buffet. It was a hit-miss quality meal but it was never crowded and I could always count on a tranquil lunch without being flanked by a pack of yammering yahoos. I'm a little sad it's gone, but I look forward to dining on fried Twinkies, big omelets, and something called "Buffy the Burger Slayer" at the new Hamburger Mary's.
Any of you old timers have any spicy tales of Hamburger Mary's? I only ate there once and I was hungover out of my gourd. I just remember it was called Hamburger Mary's so it wouldn't be confused with strip-club Mary's. Ah, good times.