Foodie fest
Indulge? Why Yes, I Did
Getting stuffed for a good cause rules!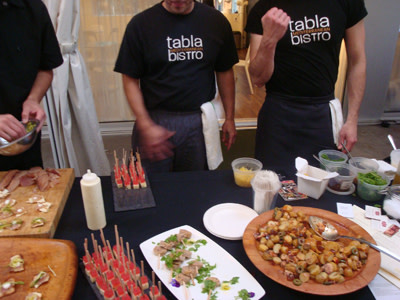 The name of the event was Indulge 2010 and that's 100 percent accurate. This eastside bacchanal was held at the Jupiter Hotel last night, bringing together local independent food/drink-based businesses for a massive small-plate pig-out to raise money for Ecotrust's Food and Farms Program. I'm still waiting for info on the dollar-amount raised, but the astounding taste memories of the artisan entrees and spirits are firmly lodged in my hippocampus—a word which also describes my swollen belly this morning.
ITEM: I have to say I was most surprised by the two dishes proffered by Doug Fir. When I'm on the premises cooling my heels before or after a rock show, I usually order a burger, soup, or similar simple fare. After having been introduced to the tangy and substantial corn-crusted green tomatoes with lime aioli and mango salsa, as well as the smokin'-hot pulled pork sliders, I now must reconsider my options.
ITEM: Bakery Bar's mini ice cream sandwiches deserved a standing ovation. An innocent-looking glob of sour cream-candy apple ice cream (!) stuffed between two homemade gingerbread crackers was all it took to reduce me to a gibbering fugue state. Sadly, they saw through my clever Groucho glasses-nose-mustache disguise when I went up for thirds and the good-natured gals working the table were forced to put out a restraining order. Hopefully they'll blame Groucho.
ITEM: The gnocchi with oxtail ragout from Genoa rocked, but it was only doled out by the spoonful. I would have preferred it if they'd filled my Ikea bag as requested, but apparently gourmet chefs are a stingy bunch.
ITEM: The sweets created by the Xocolatl de David chocolates—especially the s'mores with scratch-made marshmallows—were all objects worthy of obsession.
ITEM: The House Spirits Distillery room was packed to the gills when I tried to worm my way in for the much-raved-about Slabtown Old Fashioned. Instead I stopped by Integrity Spirits for a lethal mixture of chai, Hazelnut vodka, and Bailey's Irish Cream. Sounds like a sissy drink. It wasn't. Things got a little fuzzy after that and my attempt to start an impromptu conga line was met with stony indifference.
ITEM: Tabla had two of the best dishes—and one colorful misfire. The Spanish octopus and fingerling potato salad was an example of picnic food fit for royalty and the duck confit lollipop wrapped in a chestnut crepe was off the hook. However, I just flat-out didn't get the goat cheese and watermelon skewer. I blame my peasant's palate.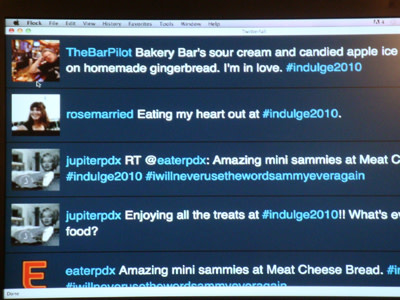 ITEM: The event was chock-a-block with tweeters as evidenced by a large monitor located in one of the chill-out rooms. Anyone affixing their tweets with #indulge2010 could then see their thoughts crawl down the page on the big screen. It was a totally meta experience to be texting on my phone and then watching my pithy comments appear before a roomful of people. The reviews were generally glowing.