Piece of the Rock
MusicFest Gathers Steam
Terrific tunes in store this weekend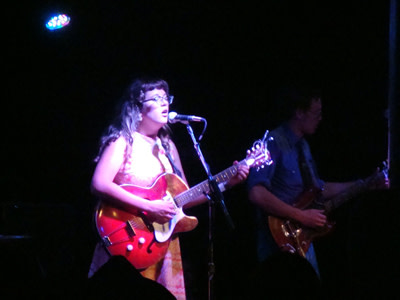 This is the 15th year in a row I've covered this particular rock 'n' roll revival. Before it was MusicFest NW, it was called North by Northwest, the Yankee cousin of Austin's much-ballyhooed South by Southwest festival. And I've definitely had my share of Kodak moments whilst gallivanting from club to club (usually the Berbati's Pan/Dante's/Roseland/Satyricon/Ash Street Saloon nexus) in search of alluring sounds.
Thursday night turned out to be good hunting. I experienced first-hand the painfully honest, raw-boned folk of mbilly, Red Fang's murky Black Sabbath homage, Big Freedia's bouncing behemoth house party at Roseland, and the surprisingly sophisticated twangy torch tunes from Sallie Ford and the Sound Outside.
However, it was LA's the Bellrays at Ash Street Saloon twho put on a sweaty set of rockin' soul music that absolutely pulverized the crowd. Picture a testifying Tina Turner fronting a blistering garage band of white boys with the woo-woo's and you get the picture. Remember the name: the Bellrays. Accept no substitutes.
There's still an ample buffet of rock to graze this weekend, in particular the lineup at the Someday Lounge tonight, with Boy Eats Drum Machine, Finn Riggins, Y La Bamba, and Typhoon. And you should be able to sprint back and forth between Berbati's Pan and Dante's from 11-1 in order to catch Black Prairie, Richmond Fontaine, Thee Oh Sees, and The Gories.
Saturday and Sunday features major attractions like Blue Giant, Laura Veirs, the Decemberists, the Walkmen, and the National at Pioneer Courthouse Square, which makes for a pleasant and breezy change from the lemming lines and wall-to-wall punters jammed into the clubs.
Go! Listen! Learn! Love!
This Just In: Anthemic New York combo the Walkmen will be doing an in-store performance at Music Millennium this Sunday at 12:30. Bring stuff for them to sign!