Cheap Eats
NW Breakfast/Lunch, for <$10
Breken serves affordable cereal, soup, salad, sammies, and more in the Pearl District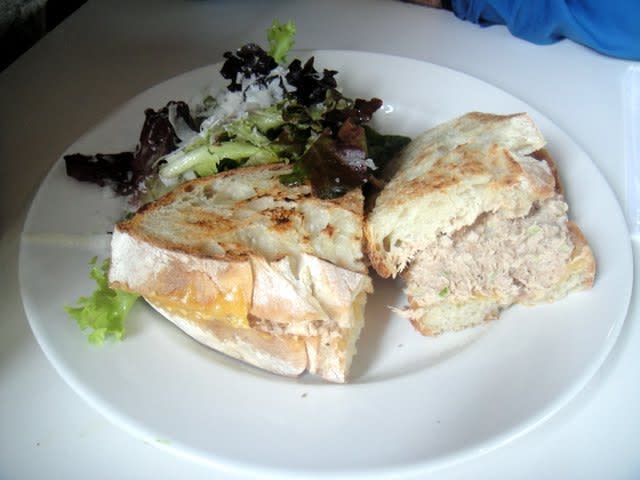 This past Saturday I made my way over to the still-industrial portion of the upper Pearl District to check out what I had heard was a sweet, cheap, and semi-secret little place called Breken. There was absolutely no one in the huge parking lot associated with the address, which at first I blamed on the infernal rain that has returned to make me think fondly of the freeways and smog in Los Angeles; but it turns out the tumbleweeds had more to do with the fact that all the businesses in the historic Triangle Building at 1800 NW 16th Avenue are closed on Saturdays at 1 p.m. — including Breken. Stupid Yelp.
Anyhow, I returned today for lunch and joined the pleasant crowd of office workers, stay-at-home-moms, retirees, and students for a perfectly pleasant meal at a perfectly reasonable price. The lunch menu consists of: two rotating soups-of-the-day, available in "petite" for $3 and "entrée" for $5; three simple salads, all $8 or under — the heavy hitter is the Salad Niçoise with Ortiz Tuna, Marinated Green Beans & Caper Potato Salad on Greens; and four sandwiches, all $8.95 or less, and paired with a heaping portion of vinaigrette-dressed Singing Pig Farm Organic Greens. I had the ALT — Grape Tomatoes tossed with Buttermilk Dressing, Butterleaf Lettuce, and Avocado on Como — for $7.95, and my man had the Ortiz Tuna Melt — good old-fashioned tuna salad with no frills, covered in Tillamook Cheddar, on Big Country — for $8.95.
Although the portions were big, both of our sandwiches were simple, relatively healthy, and felt light. It's not like Breken is reinventing the wheel, but you'll leave full and you won't be angry that you just wasted your calories and coins on a crappy meal.
I'd like to return for breakfast, however, and try the Grilled Peanut Butter and Nutella Sandwich on Sourdough, for a ridiculously cheap sounding $3.95. They had me at "grilled peanut butter" but then closed the deal with the Nutella. You can also get your grilled PB with J or with honey and sliced banana a.k.a. The Fat Elvis. An even cheaper two-egg sandwich, Kettleman's Bagels, and housemade granola and pastries round out the breakfast menu. (I tried the gluten-free Red Velvet cupcake, which gets an A for effort but makes me real glad I don't have an anti-wheat neurosis.)
Other highlights: wine, beer, and bubbly; Stephen Smith teas; Coca-Cola in a bottle; a Wed.-Fri. Happy Hour, from 3 p.m. to 6 p.m., with Roasted Chicken Lasagna for $5 and Crostini featuring three fancy spreads for $4; and a really great space — clean, open, and airy, with lots of tables, big and small, as well as couches arranged for cozy group chatting. Plus, it has an awesome view of the Fremont Bridge.
According to Breken's own website, they are open Mon.-Fri.,7 a.m. to 5 p.m., and Saturday from 8 a.m. to 3 p.m. But speaking from experience, I suggest you call ahead to confirm: 503.841.6359.