Festival Notes
Distill My Heart
A crowd gathers at the Distillers Festival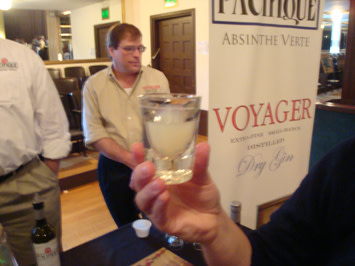 It wasn't quite a lost weekend, but I spent Saturday at the sixth annual Great American Distillers Festival taking place at the Tiffany Center on SW Morrison. A packed house of some 400 spirit enthusiasts glided to and fro, tasting tiny tipples of everything from absinthe to Zante grape liqueur. More than 50 vendors had set up shop which made it difficult to navigate the room without over-sampling. It was like Costco except the more samples I tried, the happier I felt. Happiness, as everyone knows, is not an emotion normally associated with an afternoon at Costco. Just sayin'.
Ransom Spirits, the local purveyors of a very respectable Old Tom Gin, introduced the world to its new Whipper Snapper whiskey, a modestly aged and barely civilized blend that's a bit unruly, but settles down nicely with the help of an ice cube or two. Pacific Distillery from Woondinville, Washington, proffered a sinfully smooth absinthe that will be right at home in my next sazerac. And I could well imagine myself getting into all kinds of mischief courtesy of Firefly Distillery's (Charleston, SC) dangerously yummy sweet tea bourbon.
Of course, some of these daring drinks should be filed under "failed experiment." New Holland's (Holland, MI) "Hopquila" comes to mind. It was, as my mom used to say, "interesting." Nuff said.
I also rubbed elbows with local distillers like Christian Krogstad from House Spirits as well as his former business partner Lee Medoff, who's branching out with his own Bull Run Distillery brand. Reps from New Deal, Rogue, and McMenamins also were present and busy pouring their little hearts out. Perhaps the biggest surprise was the abundance of tequila merchants. Tequila fans had more than two-dozen varieties to savor. Sadly, there wasn't a piñata in sight.
While the rest of us mingled and mused, the PDX Cocktail Invitational was taking place on stage, with 19 mixologists from up and down the West Coast squaring off in friendly competition, shaking up intriguing cocktails for a panel of judges and members of the public. The few entries I got to taste were superb. I was pulling for Park Kitchen's Adam Robinson, who came up with a jaw-droppingly tangy mixture of Corrida tequila and blackberry root, but in the end, Ali Tahsini from San Francisco's Bourbon & Branch took top honors for his Bell-Pepper sour, which he threw together in a Chopped-inspired showdown where the four finalists were asked to construct a cocktail from boxes of mystery ingredients. For the locals, Tommy Klus and Art Tierce from Bluehour placed third and fourth respectively. Way to represent, lads! As for you out-of-town hotshots? Just wait till next year.
Now where the hell did we park?