Happy Hour
Happy Hour: Miho Izakaya
Miho Izakaya is a worthy destination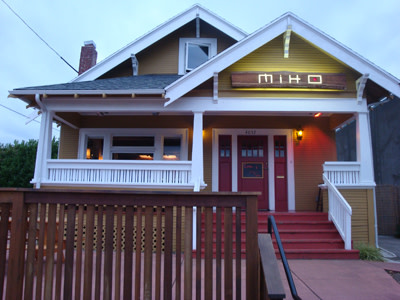 I am a heel. Either that or I should get a drivers license.
Miho Izakaya, the absolutely adorable (just like Hello Kitty!) Japanese eatery on N. Interstate has been open for an entire year. My buddy Michael Carothers is the co-owner and every time I see him I make all kinds of vague promises that I will soon be darkening his doorstep. But I'm a Southeaster and I tend to view other quadrants of town with suspicion. Besides, me no have car. So, armed with the flimsiest excuses imaginable, I've been putting off a visit for 13 months. I am a wretched reviewer. Commence throwing vegetables.
It turns out I've been missing out on some of the tastiest and most original small-plates in town, as well as a new go-to destination for group noshing. Miho Izakaya is a mere 16 minutes from downtown on the Yellow Line Max and I managed to transport my bulk with little effort. Located right across the street from The Alibi, MH resides in a rather humble house with a spacious patio that undoubtedly gets packed to capacity during warm weather. I'm not sure if it was just a side-effect of the dark, dank weather, but the little pub also exudes a very definite welcoming vibe. Not all Japanese houses are like this (see the film Hausu).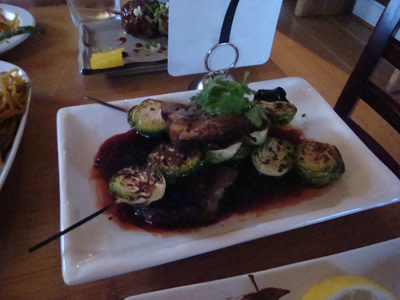 The layout manages to be both intimate and expansive. There are three separate areas to kick back in, including a traditional tatami room for those who crave a genuine Japanese culinary experience—and who don't mind kneeling throughout an entire meal. Since my knees have never recovered from an injury sustained on a top secret Black Ops mission, my friends and I opted for the Western-style seating accommodations.
The Happy Hour details are meager: Between 5-7 you can get $1 off cocktails and beer. But that's not the reason you're here. It's the food, stupid. Depending on what's happening at the farmers market, the colorful chalkboard menu displays between 25 and 30 plates, ranging in price from $2-10. From a crackling assortment of pickled veggies ($2) to the silky sashimi of the day ($10) everything is fresh and fabulous. Highlights of our group repast were numerous: the slow-cooked pork and brussel sprouts ($6) were nothing less than sensational. In fact, if the dish has pork on it, go ahead and order it. Covered in a toothsome, tangy plum sauce variant, the pork is falling to bits while the lightly cooked sprouts pack a bit of crunch. The sesame pork meat balls ($4) are huge, hearty, and seasoned with a sweet, smoky sauce that will energize your taste buds like a a bolt of lightening. The ahi tuna poke ($8), rather than drowned in sesame oil as is usually the case, is more of a snappy brine-and-onion bite, and tastes great even a day later when chomped down greedily from the to-go box. Did your starving days as a college student leave you scarred for life when it comes to ramen? Get over it. Both the pork and veggie ramen are robust and nurturing, and are quite capable of steaming the wind and rain right out of you. One other thing: if you don't order the chicken and shrimp gyoza dumpling (a swell bargain at $4) you'll regret it.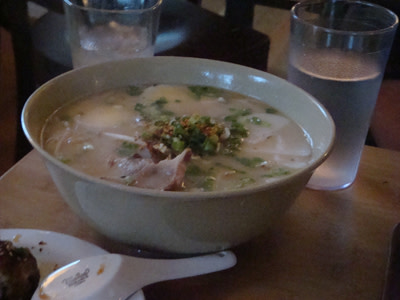 The drinks play a supporting role to the vast spread of goodies, but they should not be overlooked. Miho Izakaya has a full bar, but the specialties are drinks made with shochu, a Japanese neutral spirit distilled from buckwheat, rice, or sweet potatoes, as well as varieties of saké. I had a Twisted Kite ($6), a smooth-sailing blend of shochu, lime, peach bitters, and ginger ale. There are domestic beers, regional craft beers, and tall bottles of Asian brands like Asahi, Sapporo, and Chang's. With this menu, I prefer the latter group.
The most delightful aspect of time spent at Miho Izakaya is the instant feeling of camaraderie. The coziness of the space and the exotic nature of the entrees awaken a traveler's sense of adventure. True, it's a local joint, but it's easy to pretend that you and your friends stumbled upon the quaint little place during an unexpected cloudburst during a sight-seeing afternoon in Kyoto. And since you're all in this together, the sharing of plates is a given. Even vegetarians will be psyched with the menu options. They are indeed plentiful.
So what did I learn? Easy: stop being such a homebody and don't be afraid of leaving the comfort zone. Travel broadens the mind as well as the waist.