Bar Crawling
Beer! Beer! Beer!
There's no escape from Night of the Living Ales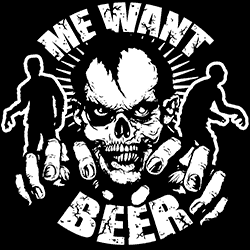 My favorite holiday is fast approaching and as you may recall from previous posts, it's an occasion I treat with the fervor of a rabid Jehovah's Witness.
Last year I called out for Halloween cocktail recipes and I'll be dropping some knowledge on that particular subject very soon. In the meantime, I would advise the brew believers among you to make arrangements for Halloween night (Sunday, Oct 31) to attend the Night of the Living Ales pub crawl along NE 28th Ave.
You'll need to buy a $5 wristband for this auspicious event (find out how here), which entitles the wearer to exclusive beers like Upright Brewing's pinot barrel-aged brown ale, Double Mountain's Bonne Idee Avec Kriek (a blend of Saison and cherry kriek beer), and Ninkasi's Kraken, a strong ale as formidable as its name. The piece-de-resistance is a Peanut Butter Chocolate Oatmeal stout crafted by event organizers. Your host will be the lovely Lisa Morrison, aka The Beer Goddess, whose "Beer O'Clock" radio show broadcasts every Saturday at 3 p.m. on KXL. The crawl begins at Migration Brewing (2828 NE Glisan St) at 8 p.m., followed by stops at Spints Ale House, Beulahland, and Coalition Brewing.
In the words of event founder Ezra Johnson-Greenough, "I designed this pub crawl to be exactly what I would want to do for Halloween—it's just good clean fun and great beer and drinks without being a wild out-of-control event. Don't feel you have to wear a costume, though you have a far better chance of winning prizes if you do, and there will be some excellent prizes like gift cards to all the various pubs, T-shirts and more."
Yes, you should wear a costume as prizes (e.g., brewery swag) will be awarded at each location. Besides, it's Hallo-friggin'-ween and craft beer is way better for you than some lousy miniature Milky Ways.
Costume ideas? I'm all ears.