Cheap-ish Eats
To Each Their Own on NE 28th
City State Diner offers perfectly passable Portland-ized versions of diner classics—but vegetarians beware.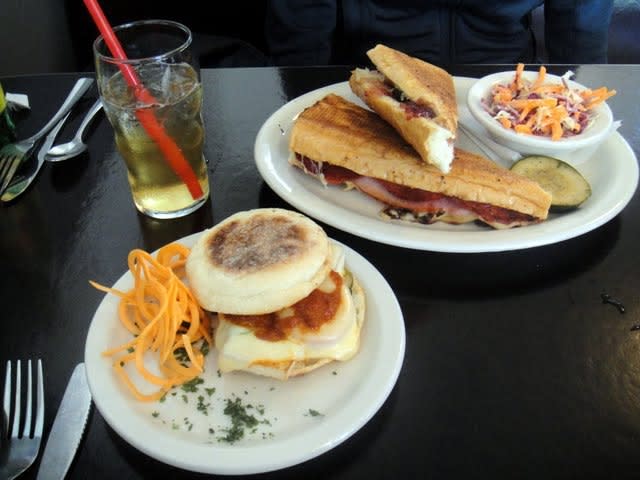 City State Diner, located at 128 Northeast 28th, is the kind of place my friends and I should love—an almost stark Edward Hopper-esque interior, breakfast served all-day (8 a.m. to 10 p.m.), and a menu filled with classic diner food like chicken fried steak, a reuben, and burgers, but gussied up with brie, garlic thyme aioli, blackberry bacon vinaigrette, and house catsup. It's also cheap enough to ease your guilt about going out to eat (scrambles are $7:50-$9, sandwiches and burgers are $7-$11, and the most expensive entrées—the meatloaf and the peppercorn pork loin—are $12), and yet not so cheap that you'll have to spend the rest of the day doing shots of Pepto.
After finally having lunch there last week, I think my friends still might love it, but chances are I won't be heading back there myself anytime soon.
First, the good stuff. My luncheon pal, Lindsay, ordered the $9 Cuban sandwich—about a foot's worth of French baguette filled with ham, capicola (a dry-cured Italian salume made from pork shoulder or neck), house pickles, Swiss, dijon mayo, and strawberry jam, all grilled flat. Although traditionalists might argue this toasty cubano's authenticity (due to the addition of mayo and jam), Lindsay thought it was delicious. She loved the zippy pickles and the combo of salty and sweet, but her rave review was "really all about the meat." Highly sensitive to the texture of her edibles, Lindsay noted that rather than presenting the sliminess than can occasionally occur with cold cuts, the capicola had been pan-grilled before it was placed in the sandwich, which released all the vibrant flavors and gave it a little toastiness as well as a bit of crunch. Sure, she ended up scraping off a bit of the jam and her rather lethargic looking side of coleslaw (basic cabbage and carrots in a creamy vinaigrette) went untouched after one bite, but the sandwich made her want to return for other meaty mouthfuls like The Count—house smoked turkey, prosciutto, havarti, brie, and apricot jam between slabs of hazelnut challah French toast.
My problem was that I also wanted to eat an awesome lunch sandwich, but I am a vegetarian. Out of 16 lunch sandwiches and burgers, the only option for me was the Back 40, a falafel patty with garlic, mixed peppers, onion, and house catsup i.e. booooooooooooooooooooooooooooooooooooring. I am the kind of vegetarian who totally understands that I will likely be limited to a single sandwich (typically grilled American cheese and Wonder Bread) if visiting a diner in the Mid-West; but City State offers smoked tofu on their list of sides, so I wondered if perhaps I could substitute it in a more unique sandwich.
Apparently not. Now, I absolutely would have understood if the chef's reasoning was that he didn't want to tamper with the perfection of his culinary creations—I've worked in restaurants long enough in my life to respect this POV. But, instead, I was told that although the tofu is also available as an individual side, it was impossible to substitute it in a sandwich because it was pre-portioned for other dishes on the menu. And yet, despite this limited-availability-due-to-pre-portioning dilemma, I was allowed to order a meaty sandwich without the meat, order a side of tofu, and then have them insert the tofu into my sandwich. Come on now people—say No if you want to say No, but don't come up with some irrational, condescending excuse.
Chances are that the denial was also price-related—the sandwiches contain a mound of meat, so the chef might have (incorrectly) assumed I'd expect a ton of tofu and maybe this was some really amazing, difficult-to-make version of tofu…
Nope. Because I was curious, I ended up ordering a breakfast sandwich that contained a single slice of the tofu along with caramelized onion, tomato, and fresh basil for $5, and I paid another $1 for a slice of Meunster. What I received was a tiny, bland, wet mess—the muffin was undercooked, the tomato and onions just contributed to a general squishiness, and the tofu was both flaccid and flavorless. The only thing that made my sandwich worth finishing was filling it with the delicious, crispy, salty fries I had ordered on the side.
Basically, I think City State is just not an ideal eatery for vegetarians—I base this on the way in which they seemed to relish denying me a simple substitution, and my meal itself. I'd venture to guess that all their energy (and personal interest) is directed at the flesh-oriented fare. Even so, it seems like they still might be trying to figure things out, in general… like, right now, the ideas have a slight advantage over the actual execution.
That's cool. My meat-eating friends can eat there and I'll just hang out next door at Alma Chocolate, home of the world's most incredible chocolate coconut macaroon.