Such a deal
Happy Hour of the Week
The news is mostly good at the Original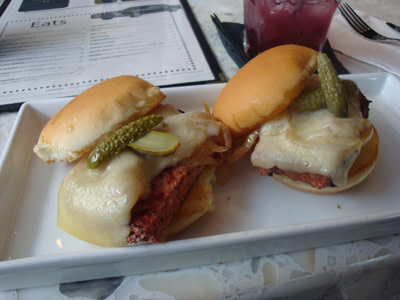 Since its opening a year ago May, the Original has been taunting me. I can see it from my office window. And if I can get my head to turn like Linda Blair's, I can see the dessert display case. There's comfort in knowing that a serviceable slice of pie is like 30 seconds away.
Make no mistake, comfort is king at the Original, multitasking as a clean, comfy coffee shop, diner, and bar to the adjacent Courtyard Marriott on SW Oak St. Its proximity to the hotel is both a blessing and a curse, but for the most part the Original morphs with remarkable grace.
The Good News: The daily Happy Hour (4:30-6, boo!) is plentiful and priced to move. There are 20 items between $2-5 and you can drink pints of PBR for a buck. Also, the waitstaff is punctual without being pushy and friendly without being obsequious. Their mixture of hustle and good humor is a genuine pleasure, especially considering Portland's reputation for slacker servers.
The Happy Hour chow is a mixed bag, but you can't go wrong with the finger food. The meatloaf sliders ($4 a pair) hit the spot with the hearty ground beef coated in gooey melted Swiss and topped with a couple crunchy gherkins. The BLT Deviled Eggs ($4 for 3) will inspire a double take thanks to the purple coloring. Your amiable server will cheerfully explain that the eggs were boiled in beet juice to give them a little flavor boost, though the whipped tomato filling and the shard of bacon are more than capable of tickling your tastebuds. The chili cheese fries ($4) are a near-miss; the fries are crispy and seasoned perfectly, but the cheese is bargain brand. And the chili? Needs more "ooomph." A few shakes of Tabasco remedied the situation nicely.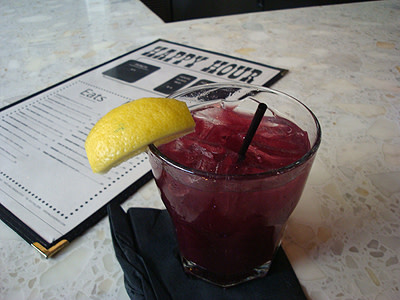 For washing down your victuals, you can go with a house red or a house white ($4), the aforementioned Pabst, or you can have a glass of Punch ($4). I opted for the latter and was glad I did. The Original Punch is a tangy, invigorating blend of berry-flavored rum, blueberry puree, and lemonade. It's one of those cocktails you can toss back with impunity till a trip to the restroom reveals your unsteady pins. I had two before switching to Rogue Dead Guy and that seemed about right. My stint as a deck hand on a fishing boat left me with a rolling gait, anyway.
The Bad News: Spice, or a lack thereof. The pierogi ($5), the lamb meatballs ($5, served with tiny toast tiles), and the chili were all bland as paste. This is where the hotel factor comes into play. About five years ago I got stuck on a Greyhound next to one of the last of a dying breed—an actual traveling salesman. This fellow sold batteries door to door (sad!) and had spent most of his adult life on the road. "Don't eat spicy food when you're traveling," he told me. "It can cause all kinds of problems." And he left it at that.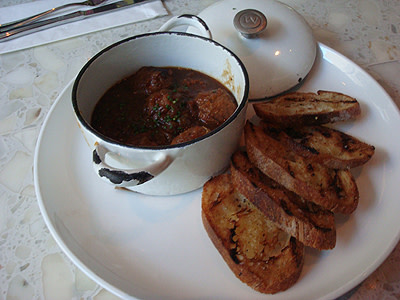 I always thought the guy was a fruitcake, but there must be some truth to his mantra, because every Happy Hour item at the Original that had a sauce component seemed better suited for a senior citizen's palate. Hot sauce or Tabasco are an improvement, but the overall lack of fire in the broth was anything but comforting.
I'll be back, though. It's a superior sit-down dining option in a part of town where they're mighty scarce. I'll just make sure I have a bottle of Secret Aardvark Sauce hidden in my boot.